1976 450SL, 1992 190e 2.3, 1984 300D turbo, 1966 VW bus
I'm asking this question in the 107 forum because you people are most knowledgeable.
My daily driver Mercedes has real bad original paint. 1992 model. Past the point of buffing.
High mileage car, not worth expensive paint job. But mechanically very solid.
I would like to remove all trim, do all dent filling, priming, and sanding at home. Then take it in for a Maaco spray. I expect in some areas bare metal will sand through, very thin paint.
two questions:
Should I get a single stage paint or the "upgraded" more expensive dual stage (base and clear)? Everyone seems to have a different opinion. Car was originally single stage "Arctic White". Don't want to spend more than about $1,200 at Maaco.
Planning to use Eastwood 2k primer. Should I epoxy or high build urethane? Should I use a layer of both kinds? Are they both suitable for going over bare metal, bondo or old paint? Is ANY paint type compatible with ANY primer type?
2K Aerospray™ High Build Urethane Primer Gray
www.eastwood.com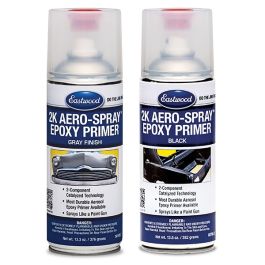 Performance and Durability of a Two Component Coating without the Paint Gun
www.eastwood.com
My main concern is making sure everything is compatible and won't have some kind of bad reaction..
I know this is a lot of work but I would like to learn.
Thanks all