1983 380SL, ivory/dk brown, 46k miles, dual roller timing chain. 1986 560SL, red/white, 190K mile.
Replaced the O2 Sensor with a Bosch 13925 equivalent to A0075425217 in my 1986 560SL.
When I purchased my 560SL back in 2013 the car had a spliced in O2 Sensor. In 2018 I purchased a Chinese made O2 Sensor off Ebay for $20. My 560SL has an slightly erratic idle - rpms up and down very slightly but enough to trigger my OCD. I suspected I should try a genuine probably made in Germany Bosch O2 Sensor AND ALSO I read some post where some mechanics were disconnecting the O2 Sensor to solve the erratic idle.
What I found is:
Sensor disconnected - idle acts the same
Bosch $71 sensor - idle acts the same, so I suspect that $20 O2 Sensor operates just find.
I just wasted about an hour of my time
In any case if you are wanting to replace your O2 Sensor, its not that big a deal to do it proper and not splice wires - so here are some pictures to show you how I did it.
BTW, these are pictures of how I did it the first time 2 years ago and I just did it this time exactly the same way.
Jack up right side of car:
The Connections are under the floor mats:
Behind this plastic cover:
Is this:
O2 Sensor wiring goes through a rubber grommet on the side of the Transmission Tunnel.
Push the grommet out and then push the wires so they fall out under the car.
I used these tools to remove the O2 Sensor - O2 Sensor removal socket, and hammer to strike the end of the ratchet:
Remove old O2 Sensor and screw in new O2 Sensor.
I used a little anti-seize on the threads of the new O2 Sensor.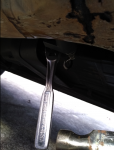 As you are screwing in the new O2 Sensor, your wires dangling will twist too.
Its important that you tighten up the O2 Sensor so you don't get a big twist in the wiring.
Then feed the wires back through the hole in the transmission tunnel.
I found it easier dealing with the big rubber Grommet is to push it completely through the hole too, adjust the wire length so it doesn't dangle too much, then fix the big rubber Grommet in the hole while topside - much more room for your hands.
I also made sure the O2 Sensor had a good ground by running a separate wire from the Frame to the body of the O2 Sensor. I connected the wire onto the body with an ordinary Hose Clamp.
Clean your hands and go topside and make the connections like this:
Put the Plastic cover back on, Floor Carpets back and you are done:
Old Sensor versus New Sensor: