Discussion Starter
•
#1
•
Has anyone other than BenzWorld member wasimgehlen replaced any of the rear axle components on your S Class?
When I was getting my car ready to have the wheels realigned after replacing all the front axle/suspension components I noticed the rear tyres have gone through the steel belt in a 10mm strip on the inside edge. The rest of the tread is worn but not as bad as that. It is really weird.
My 12 month old Continental tyres are completely stuffed after 11,000Km (6,800 miles). I was worried when the Tyre Fitter set the rear toe-in to 9mm total as I could smell burning rubber when I drove home. I went back the next day and they reassured me it was perfect and within spec. I went back at 2,000Km and 5,000Km and the rear tyres seemed to be wearing evenly and they double checked that it was within spec.
Googling BW only gave me one real result, a post by BenzWorld member wasimgehlen, which tells me it is likely to be the Camber Strut (2). See his post at;
http://www.benzworld.org/forums/w220-s-class/1659069-s500-w220-rear-wheel-alignment.html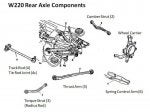 If I replace the Torque Strut (3) (Radius Rod) as well, the issue is how to get to the inner bolt. It looks like you have to lower the whole rear end!
And having got it all to bits I should also replace the Thrust Arm (5), and the Track Rod (4)?
Oh well I have got nothing else to do.
Any advice much appreciated.
Regards,
Brian