2000 W210 E55 AMG, Silver/Black - Stock
I am creating a new thread to help simplify and clarify the mystery of shocks on our cars.
This is based on my experience only but I suspect it applies in general to these cars.
Here is the bottom line on the correct shocks: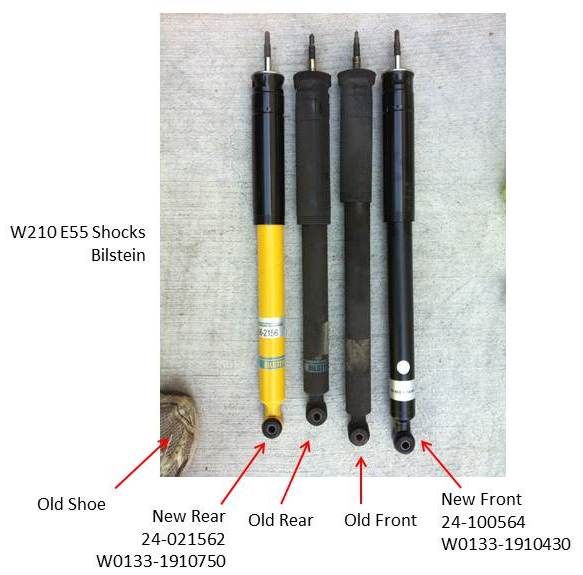 Installation tips:
0. longer shocks in the front, shorter shocks in the rear.
1. an impact gun really helps spin nuts off and on just be careful with overtightening.
2. On the front shocks, top bolts, I could not easily use the new nylon single nut lock type that came with the new shocks. It was much easier to reuse the double locking nuts found on the original shocks. The air gun easily took these down (without spinning the shock shaft) and then I just had to hand do the upper lock nut. One the rear upper, I went with the nylon nut.
3. I did not have to use twine to compress the shocks, nor did I have to support the lower arm. I did have to use a lot of muscle to compress the shock slightly to get it in on two of them (not sure why the other two went in without fuss. I am pretty strong and needed 90% of my strength.
4. The parts bags for front and back shocks are the same.
5. It was a longer and harder job than I had expected but then again I am not getting any younger either.
My impressions:
After taking my usual commute to work through LA's increasingly distressed streets, I have the say the ride is far, far better.
The handling is much crisper but at the same time, the ride quality is much better as well. Also, the car is noticeably quieter.
The car ride is far less "jouncy". It wasn't bouncy or boaty before but entering a dip or going over a speed bump, the car would whip me around quite a bit and be louder and harsher. The road imperfection would intrude into the cabin. Now it feels like a newer car. I know the bumps are there but they don't really turn into a beating in the car and I just kind of go over them.
I find it worthy to note that the traditional way of detecting bad shocks did not work in this car. The car did not boat over dips and dives. It recovered itself nicely but what did get me thinking was the tire scalloping, and much less subtle was my thinking that the cars ride quality had degraded and it was noisier in the car. It was actually, in retrospect, but I had reasoned it off at that time as more "mental". Now I see the correlation clearly.
Now that I have changed the shocks, I can clearly see that this was way, way overdue.