Discussion Starter
•
#1
•
'Camper' may be stretching it a bit, but I'll explain all
I've owned a 'proper' coachbuilt Renault campervan before and it was bloody dreadful! Really unreliable, noisey, cramped, slower than tectonic plates and looked like............you get the gist of it. Thankfully, not for my wallet, it died after the very first weekend away a few years back so I then had to consider my options.
After lots of research I bought another T5 Volvo and a huge Outwell polycotton tent :bowdown: A lovely living space if we were staying somewhere for a while, but damned heavy and a right ballache to get 'erected', so we needed more options. Enter the Vito!!
Sods law, I was skint at the time I decided upon this latest strategy/5 minute wonder, so my choice was limited to put it mildly. Add in the fact that my good lady will only drive auto's and my choice went from slim to Bob Hope in no time at all. After scouring the classifieds, I eventually found one and we did the deal on the spot. I've driven 638s before but only manuals, and I was amazed (read chuffed) how civilised this one was. Really smooth, pretty quiet in terms of engine and gearbox stuff, and no nasty knocks or bangs like other ones I've used.
Bodywork was tatty (shock) but the mechanical bits 'seemed' good :thumbsup:
So, our maiden voyage was this weekend when we stayed on the North Norfolk coast. The plan was to really travel light, so no Outwell tent and no pain in the arse set up. With a double bed size bean bag, two sleeping bags and a gas stove, we set off!
I don't mind admitting that the bean bag was disastrous but the van itself was faultless. Comfortable, warm (it's only plylined as we haven't done the Celotex yet) and spacious enough for me, the Mrs and our two dogs (6'5", 5'11" and two Llasa's). I have to say that I am chuffed
I used a 430 litre roofbox for storage of dry clothes and cooking bits and that was it. I have never had an easier camping trip, and the joy of no packing up was a real bonus (campers will no what I mean here)
The reason for the hybrid use is simple. I can get 45 mpg with no roofbox and the van is so useful for other duties, rigging it out with superfluous toot seems daft. I had all of the kit in the old Renault and this time I want a simpler, more straight forward camping experience. This also helps when I need to fill the van up with veg or garden produce (I have a very modest smallholding) and sell a few car bits now and again. You try doing that when you're worried about getting mud on a campervans carpets, or concerned about stainless sinks with MX5 diffs in them :crybaby2:
I've added some photos just so there is a starting point to this lazy project. If anyone is interested in using their van as a camper, I would strongly recommend going for it. We have a tailgate on ours with twin sliding doors so it is so flexible. Whatever pitch you get, you will have options and the ease of being able to rock up and start your holiday the minute you switch the ignition off is really special.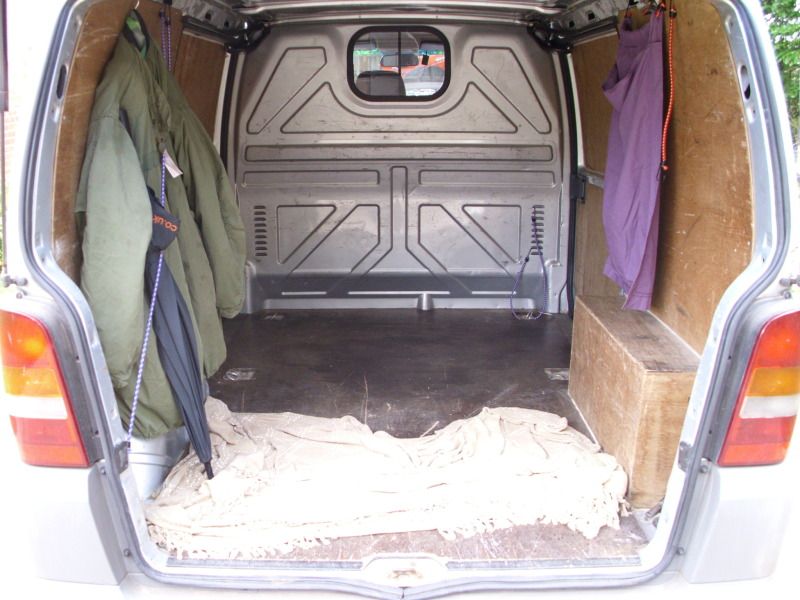 Highly recommended :thumbsup:
Basic bits I'm after next will be a cycle rack for the mountain bikes and some air deflectors for the front windows, so we can get some better ventilation over night. Other than that, the van is ready to rock and roll. I've already got a double sized mattress for the back with quilts and pillows, and will just bungee cord this up to the side when not it use. We're off again at the weekend and hopefully this new solution will be more successful.
I will start tidying the bodywork this week after the Mrs' 'Hammerite special' attempt. I'd like alloys but it just adds to the expense and I know I'll be tempted with 18's and that will bugger up the comfort (wild camping requires full comfort
)
Feedback welcomed. If anyone has any questions about camping whether it's in tents, motorhomes or vans like this just ask. I've done it for many years both here and abroad; I'm no expert but I have learned a lot from my mistakes and also a bit from other people too.