2012 CL550 4MATIC Coupe - RIP
"Two OG's GTG in the LBD's" Or: Two good friends Get Together at the Long Beach Docks
As some of you may know, our very own "AzimuthAviation" bought a 40' Cris Craft "Conqueror" boat last week docked in Long Beach Marina. The boat was in "Very Rough" condition, but it was berthed in her own slip and currently in the water. When he first showed me the eBay ad (Yes, that right it was on FleaBay) I was saying "Yeah, cool, just what I would want." I put the condition at about the same as was my coupe when I bought her. Rough looking but still a lot of life left in her. Roy and I have similar tastes and skill sets, so when I saw pics of her, I knew immediately what he was thinking and thought "Brilliant". I know Roy is completely up to a good challenge and this boat is like finding that Barn find 190SL or Pagoda. It's a mess but it's all there and you can see what she will become.
Roy made the final arrangements and purchased the boat and emailed me that he would be down this week to secure it and go over her and start getting her seaworthy. We talked in the beginning of the week and was going to try to do a JY run, but the week slipped by and I wanted to catch up with Roy, so he invited me down to see his new baby.
I set out Saturday morning down to Long Beach and called the guys of the SoCal Krew to see if we could gang up on Roy, but everyone had plans and could not get away, so I'm flying solo...
I left Lancaster about 10:30 and it was a cold and crisp 47 degrees with the clouds still hanging around from the morning rain that had just fallen. I live at the top of the mountains in SoCal. When you are in Los Angeles and you look North, there is that mountain range that everyone sees the pics of. I live over the other side of those Mountains in what we call the "High Desert" or "Antelope Valley". Don't ask me why they call it that, there are no Antelope here, nor there ever were. Some idiot 150 years thought there were or something.
The Antelope Valley is famous for one thing: Aviation. We have it here in spades. They built the Shuttles about 3 miles from my house and the hangers are still there. They built the B-1 and B-2 here. They repair them here and they fly in and out of here all the time. My house is over the RHTP for Plant 42 so when they are in a Right Hand Traffic Pattern, they fly downwind and base leg over my house. Edwards is only 20 miles away and we have sonic booms all the time.
Whenever we leave the AV (Antelope Valley) we say we are going "Down Below" because anywhere we go, is down in elevation...
As I left the AV I had to go through Acton, a little town on the way down and there was a bank of low clouds/fog and here are some pics: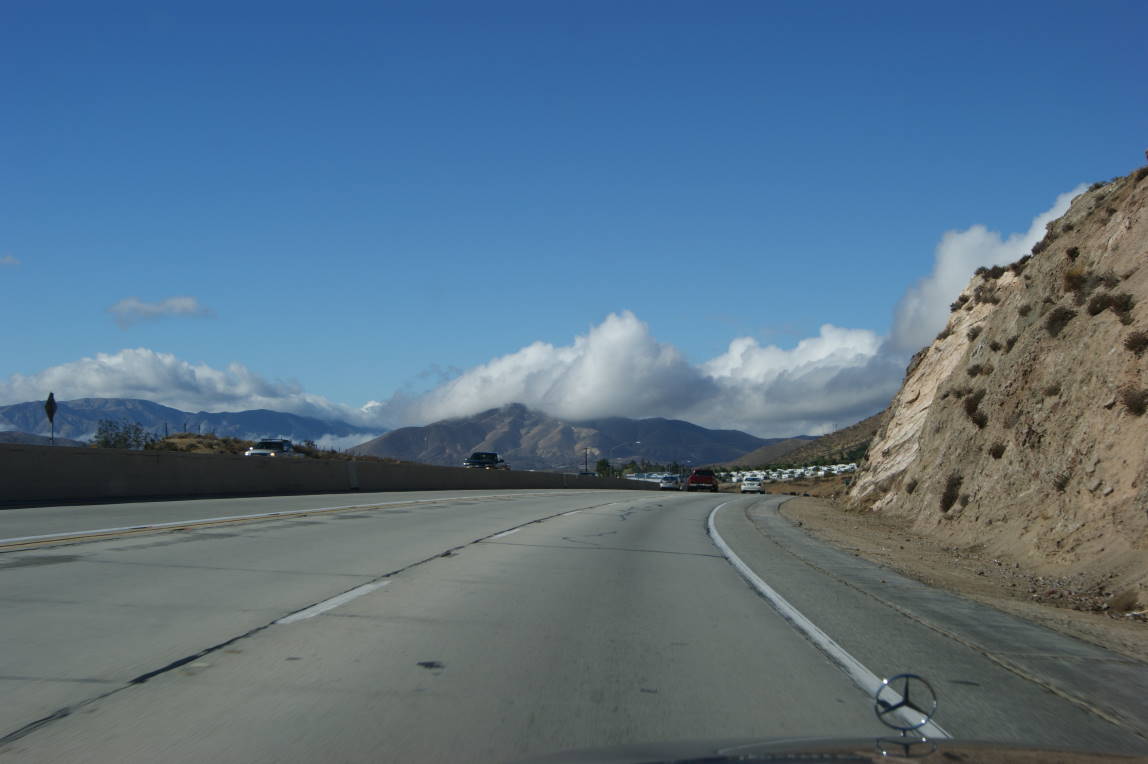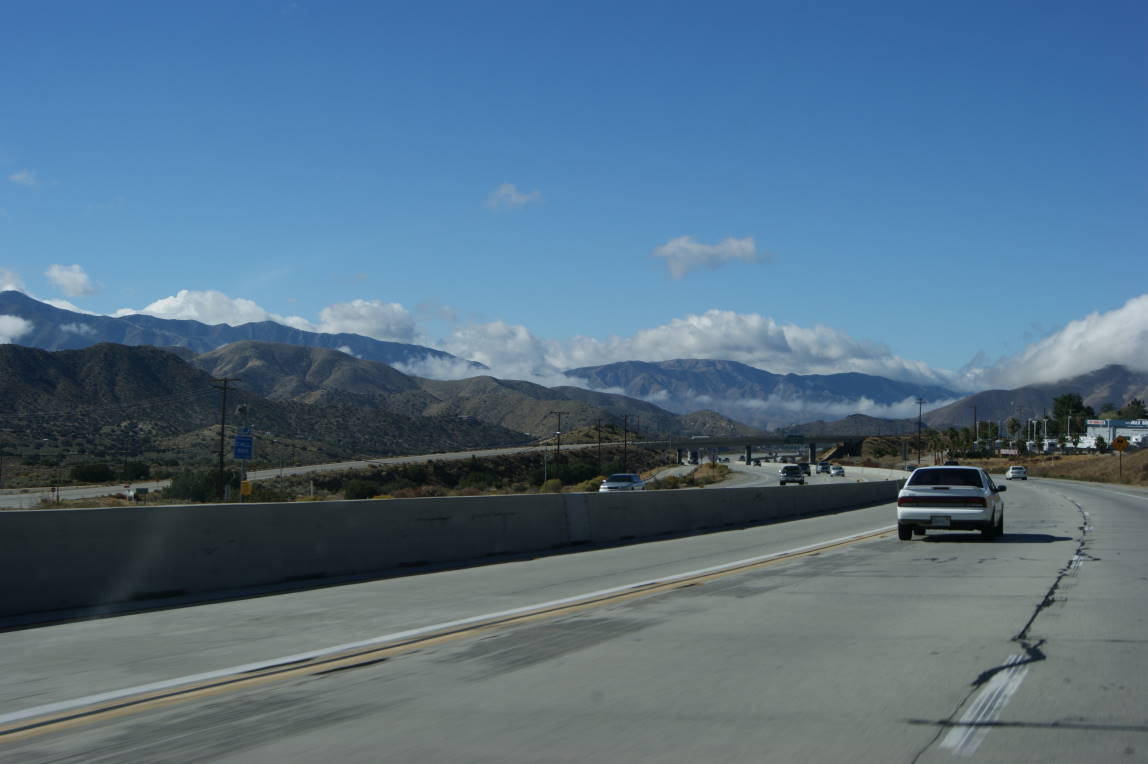 I actually needed the GPS to find my way to his marina. It was down in the middle of the industrial section of Long Beach Harbor. There were huge train bridges and Trains full of containers everywhere. Then I turn down this little road and it opens into a very nice cluster of a couple of marinas. As I start to go down there road I am starting to see nicer cars. LOTS of Benzes! I see a 126 in 172 Gray and I think it's Roy's. Some guy is vacuuming it out and washing it and I think "Damn! They will even do that for you here?". I yell out to him "Is that Roy's car?" and he looks at me like I'm an idiot. I am cuz it's not... So I keep going. Another 126... 116... couple of 124's... A 56 Porsche 356 C!
I come down the road, make a right and Boom! There is Bad Girl on the left. No mistake this time! Penta's and a coupe nose! That's Roy's Bad Girl alright! So I cozy my "Good Girl" up next to her so they won't be lonely:
I walk over to the gate to the marina and there's Capt. Roy to greet me:
Down we go to the docks and to his berth: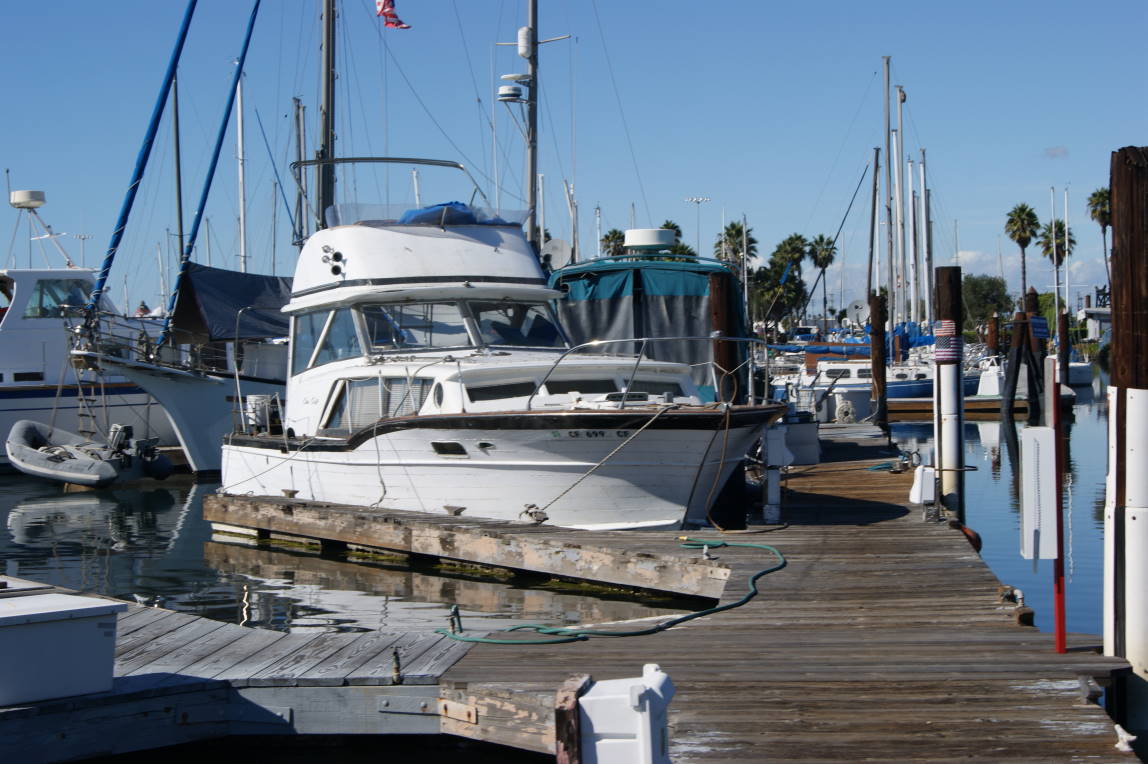 And here is the view as you are going down to his berth of the surrounding boats and what it looks like: