Discussion Starter
•
#1
•
Title say's it all..
This color should not occur in the wheelbearings.. The grease had been colored black, and it was partially liquified too..
Not good..
It's a pain i.t.a. that the most obvious thing should be the fault.
My car made more and more noise when cornering to the left. Lifted the front right wheel, not play.. No bad sounds..
Lifted the left front.. OOOPS.. There was some free-play there. Decided to replace it..
The noise was still there..
Checked the right rear wheel.. No play..
Checked the left rear wheel.. WOW.. Mega -freeplay in the wheel..
Grabbed the wheel at 6 and 12 o'clock and P&P the wheel almost 1cm back and forth at the top...
Put the car in the garage.. Had the rear left wheelbering replaced..
Still free-play ??? wtf ??
OK, the upper \camber strut was totally out of it.. Have ordered new ones now..
But.. The noise was still there.. And it was getting worse every day..
I put on the summerwheels here on saturday, ue to the condition of my snowtires. Then I saw that there was some "oil-swet" around the cap of the wheelbearing.. hmmm
Decided. It's only 120$ ... I'll go for it..
This is what met my eyes when taking the cap off.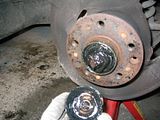 The grease was black, and almost liquified.. And the smell !! Not good..
It's to late to test drive today.. But I'll try tomorrow morning..
Hope this has done it..