Discussion Starter
·
#1
·
I lost my 2001 W210 E320 in a very bad wreck about two weeks ago. The insurance says it is a total loss so I am in the market for a new/old Mercedes. A friend of mine here in Dallas use to own a 1998 C43 and I always loved driving it, he unfortunately lost his car also because a drunk driver parked in the fast lane on the highway and turned his lights off... Poor guy never saw it coming until it was too late. The good news is he walked away with almost no injuries and the car really didn't look bad for the type of accident it had been in. To make a long story longer, I have always wanted to buy a C43 for my self but at the time I was looking the W210 fell into my lap for a stupid cheap price and I had to take it.
1st - Things I hated about the W210 E320; to slow, did NOT stop fast enough, much to large, felt huge when driving, suspension was soft, steering always felt loose, styling was ok and general lack of character.
2nd - Things I liked while owning the W210; very affordable to maintain, not awful on gas (ave 21.5 city/hwy mix), radio was really good for stock(bose), even though it wasn't fast the power delivery was very smooth, transmission was like butter, I LOVED the traction control, enjoyed being able to roll up/down windows with smart key and it felt safe when driving/riding in it (No rattles or shimmys)
Now with these two lists of what I do/dont like about my last car, do you think the C43 would be a good fit? From the outside looking in- I love the styling of the car and always have favored the 90's Merc's more than almost any other. I want to own my first AMG and I love to work on my own cars and have whats required to do so (tools etc.) I am only going to lightly modify the car ie; Exhaust, clear corners, s600 grille, led tails, led licens plate bulbs and larger mono blocks or C55 wheels, if I do anything more down the line it would be the 5.4L swap once the 4.2 finally gives way MANY years from now.
Here is a picture of what I am shooting for.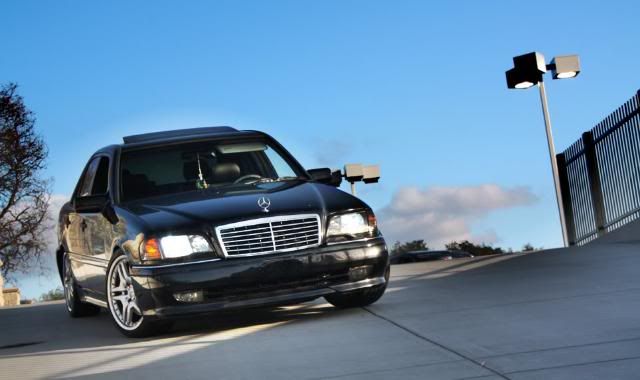 :bowdown::thumbsup::surrender:
The price ranges I have seen are a little odd if you ask me, I found one with 115k miles and all records for 7k, then I also found another with 124k miles and no records for 12k?! So if you all can give me an idea of whats fair I would greatly appreciate it.
Thanks,
Austin.