Discussion Starter
•
#1
•
When it's a Japanese Industrial Standard crosshead screw.
For 20 years I've been routinely stripping the heads of "Phillips" screws on my Kawasaki and I've probably done a few on the Subaru too, being ignorant of the difference. Particularly annoying when trying to remove carb float bowls which have screws buried deep in the guts of a motorcycle.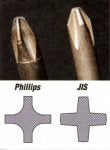 While this is not a Benz issue, I imagine some of you also have Japanese stuff to which this is pertinent. The problem occurs because of the amount of torque that gets applied to some rather small surface areas. If you've got a tool kit that came with your Japanese bike or car, the screwdriver in it will be a JIS screwdriver. You can use a JIS tool on a Phillips but you can't do vice versa without possibly stripping the screw.
I couldn't find any when I was last at Hazard Fraught Tools, so it doesn't look like the Chinese use them, but I'm only assuming. But you can make one out of a Phillips head one, courtesy of some Wing Nuts:
https://goldwingdocs.com/forum/viewtopic.php?f=16&t=15547