Discussion Starter
•
#1
•
I found this excellent diagram on the Internet: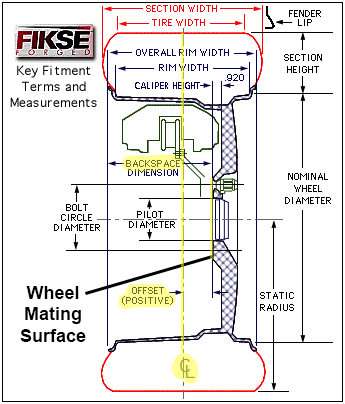 http://robrobinette.com/wheel_offset.htm
I also found this calculator:
http://www.miata.net/garage/tirecalc.html
From this I have a few questions:
1. Why is the offset such an important measurement? I would think that the caliper height is what we'd really be concerned about. I'm assuming that rim width divided by two minus offset must be greater than or equal to a certain constant for the ML (this is labeled as caliper height). Seems like a lot of extra math...
2. Why is it that most of the places I've visited don't change the tire size when the rim width changes? I would imagine that going from a 9.0'' rim to a 9.5'' rim would result in going from 285mm tires to 295mm or 305mm tires (an extra 12.5 mm or so).
3. Why doesn't anyone list the weight or load bearing capacity of the wheel? Putting on wheels made out of lead will do nasty things to your mileage and performance, but spun sugar probably won't support more than two tons of German steel. This is less of a technical question and more of a gripe against the wheel dealers out there from someone who's not looking for bling but actually hoping for better performance and/or mileage!
One last comment for the TireRack guys:
I can forgive the fact that you show a 2001 ML instead of a 2002 and I can overlook the fact that the ML55 looks just like the ML500, but since the calipers for the ML500 and the ML55 are the same (except for the color) I'd imagine that the wheel selection should also be the same...[
]