Discussion Starter
·
#1
·
I thought I would start a new post about the engine removal on my 1971 W114 250c with an M130 engine in a pursuit to find the knocking noise when hot.
Head has been removed and at the shop for valves overhaul, and most of the components around the engine block are out.
I've started the process of cleaning and painting some of the parts so i don't have to do later all at once.
Off course few visuals. I will update as I go along. Any questions let me know (I will probably be the one asking most of the questions)
Water pump before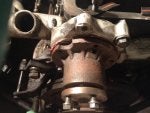 Water pump after cleaning
Water pump after paint
Fan
Sent from AutoGuide.com Free App