Discussion Starter
•
#1
•
Hello
I have a real problem. I had a head gasket failure. When removing the wheels i makred location of the chain, but in the workshop they cleaned up these characters ;/
I found a topic where forum member describes head gasket replacement.
So far everything is clear, the key slid into the hole in the shaft is touching the head when the crankshaft is OT.
And now it begins:
With him was so and so I applied at in my.
But I recently caught up with the WIS documentation: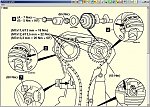 Well, now I do not know if I have made the timing right.
Engine starting well, is stable idle speed, accelerating as it should, but it burns a lot more than before replacing the seal (before replacing about 14 liters per 100, out of about 20 for the same driving style)
The second case. There's a sensor on intake camshaft. And now this. Set the engine so that the mark on the shaft coincides with the sensor.
What should we then get in crankshaft (remember that camshaft adjuster is max retarded)? OT ?
Sorry for my bad English :/