·
Forum Administrator , RC Colas® & Moon Pies®
1981 380SL 151K: 2005 S500 116K: 2006 E320 CDI
Discussion Starter
·
#1
·
See, I don't want to limit my Mercedes-Benz experience to just the 107. I want a daily driver, too. So I had the Avalon down to Claude for a spot of work and when I picked it up, Ms Claude struck up a conversation which began by her remarking on how nice my car was. Now this woman drives a very straight and clean '85 W123. Here's a pic for reference. Hers is actually silver.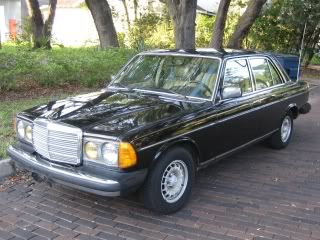 I've never posted pics of the Avalon but at almost 260,000 miles, it has its share of road rash, dings and the beginnings of rust in the rear wheel arch. It's still serviceable but is no longer the hot mama it was when I got it.
She explained to me that Claude, and herself by extension, had begun to recommend Toyotas to their customers instead of M-B or Volvo. She said the quality had suffered so much that they felt they could no longer advise people to buy them. These people make their living repairing mostly Mercedes along with a few other brands. She even went so far as to tell me that she would try to talk me out of replacing my 107 with another one if my rust issues prove fatal to the car!
I realize this is nowhere near the issue Scott had with his former indie but I have to admit, this little conversation threw me for a bit of a loop.
I just don't know anymore.