1983 380SL, ivory/dk brown, 46k miles, dual roller timing chain. 1986 560SL, red/white, 190K mile.
... it was a better price than Bosch, and I felt that URO has not been given a fair evaluation by some folks here in the past.
In addition, I've used other URO parts with success too - some rubber trim pieces, and their Steering Coupler.
I have been having difficulty starting my 1986 560SL after driving it a while, turning the engine off, and then several minutes later doing a hot restart. I purchased my URO accumulator on Ebay for about one half the price of the Bosch accumulator. Nothing wrong with Bosch, its a good part too. I've noted that URO does price their offerings at a much more reasonable price so instead of just writing off everything URO, that we should give the company a fair evaluation. Initial evaluation is very positive and seems to be the fix for the issue I have.
The URO Accumulator came well packaged, felt high quality, and fitted perfectly. An easy installation.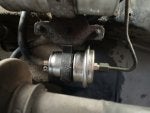 Not having a car lift, I backed my 560SL up on Ramps:
Used a 10mm socket, extension, and 1/4" ratchet to remove the plastic cover.
There are three 10mm screws to be removed in order to get that plastic cover off.
One of the three screws you will need a 12" extension on your ratchet and insert it through the preformed hole in the cover.
I used a Harbor Freight Hose Clamp to pinch closed the fuel line from the gas tank.
Then an 8mm wrench and phillips screwdriver to loosen the band around the old Accumulator.
You won't be able to see the 8mm nut on the other end so it will be by feel.
Then a phillips screwdriver to loosen the hose clamp on one end of the Accumulator.
Before pulling off that rubber hose, have ready a stubby phillips screwdriver to plug the hose to minimize fuel spill.
Wear some old clothes as working underneath on a creeper you are going to get some gasoline spilled on you.
Then a 14mm and a 12mm wrench to disconnect the hard line and slightly bend away.
I used a "stubby" 14mm wrench because it was a confined space.
The old fuel accumulator should then be easy pull out and away.
Simply reinstall the URO accumulator by following the removal procedure.
Tools I used:
While I was under there, I decided to mark with Red Paint the positive ends of the two Fuel Pumps ... just in case my Fuel Pump Relay fails. I'm going to make up an "emergency breakdown" wire with clamps on both ends and store it in the trunk. If the Fuel Pump Relay fails, I can connect the wire from the battery to the fuel pump and the Red Paint would easily let me know which end to clip to the Fuel Pump.
The old Bosch Accumulator that after 30+ years was failing to keep fuel pressure:
Versus the new URO Accumulator:
I know some folks diss anything URO but these two Accumulators looked and felt the same quality.