Discussion Starter
•
#1
•
Hi
I am looking at doing a rear engine setup in my 404 mog. I am actually planning to run much the same setup at the Ubermog vehicle which entreated the top truck trophy in 2004.
I have created a diagram of my setup (below)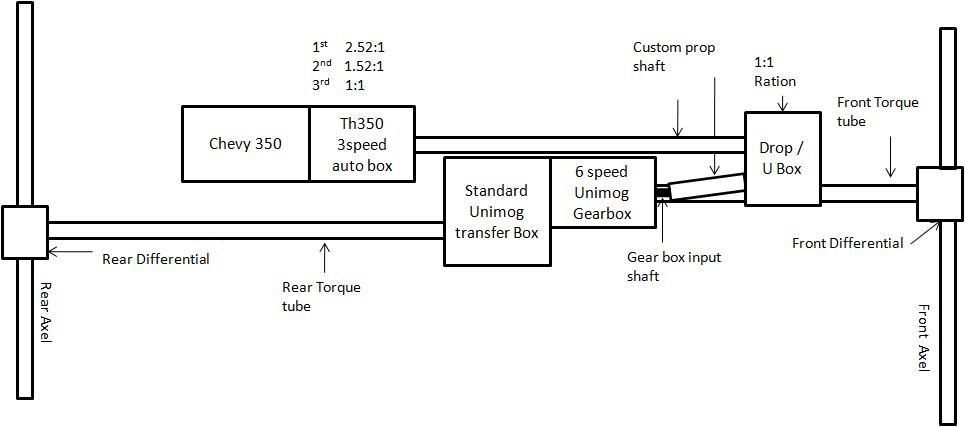 I feel quite confident with the actual setup although I do have just two queries.
• As you can see from the Diagram I am planning to connect a prop shaft from the U box directly to the input of the gearbox. Attaching the actual prop to the box will only require a special flange with the same spline setup as the input of the mog box.
The only problem I see me having is that I am not yet sure whether the gearbox shaft was originally braced and held at the correct angle by the engine (via the bell housing).
If it is I can see there being a problem with it accepting the prop without causing damage to the input shaft (as it could move around in its self) :surrender:.
If it is an issue I have come up with an idea of bracing the shaft. I am also seeing if it would be possible to use the U box to hold the Shaft and prop at the correct angle.
If anyone can confirm whether the shaft relies on being braced or whether I cab simply attach a flange and prop to it I would be extremely great full.
• The engine I am hoping to use is a Chevy 350. I am not planning to tune the engine but it will still be creating 370 around ft•lb of Torque and 300 Bhp, at the flywheel. As over engineered as the 404 Unimog is I am still questioning whether the gearbox can actually handle this amount of power and torque in particular.
As I am planning to run 2 gearboxes I have a far greater choice of ratio but with the vehicle in 1st in both the auto box and manual box it is receiving 958 ft•lb and outputting a scary 12382 ft•lb to the transfer box. Even though these seem like huge figures this is only happing at 2mph (with the engine at 4500 rpm with 44" tyres on)
I will be running an auto (which gives slightly softer power) but I just wondered if anyone could see a problem with me sending this much power through the mog drive train.
Hope you guys can help out a little with my plans
Tom