2004 CLK 500 Previously: 2001 CLK 430
So next on the to do list is my side marker bulb socket.
I went to replace the bulb when I got my clear side markers a few years ago but never got around to it until now.
Here is the ebay link I found the socket.
NEW OEM Genuine MERCEDES BENZ Side Marker Light Bulb Holder 1pcs A0005400966 | eBay
I first tried to do most of this outside when it is kinda dark since that is when I have time buuuuuuut I found it was easier just to cut about 2 inches of the wire off and bring it inside.
Here is the new part
Here is what you get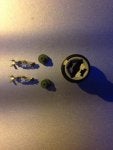 New bulbs from Canadian Tire for about $6
The tools you need plus some electrical tape
Here it is with not working
Corroded connector
I snipped it about 2 inches from the socket
Slide the green plug on and crimp the new connector on
Right in the middle is a little tab....
That has to click into this little slot
To be continued.....