Discussion Starter
•
#1
•
Ok there are a lot of smart folks on this forum!
Here's my problem... I changed my alternator and the new one is in place.
But now I can't get the Serpentine Belt back on.
My specific problem is the took the pully off the front of the automatic belt tenisoner to remove the belt. Now the problem is how to get it back on. I have searched the forum to find a solution, but nothing specific with a 1999 ML 430 automatic belt tenisoner. So for those of you that are more experienced with this issue than me, here are the photos of what I'm talking about: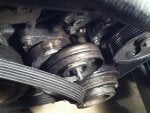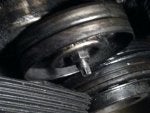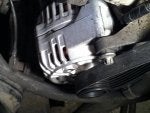 I'm all greased up now and would like to get this back together ASAP. Any help as to how to get the serpentine belt back on a 1999 ML 430 will be most appreciated!