BenzWorld Junior Member
Date registered: Sep 2011
Posts: 8
Mentioned: 0 Post(s)
Quoted: 0 Post(s)
(Thread Starter)
1993 c180 throttle body PROBLEMS IDLE hestiation HELP
---
Hello,
Mercedes has a couple of problems now, the tachometer sticks go up and down, 700-1000 rpm. (Car has no MAF/IMM)
When I read the wrong codes, I received a couple of error, about 3-6 (throttle body, throttle, etc.), But when I looked at that plug / connector it was like new.
It is difficult to exchange it?
Should I buy a new or used?
See this movie:
http://dl.dropbox.com/u/29219457/IMG_0351.MOV
T. Simon
BenzWorld Junior Member
---
Was it after some repair / maintenance work on the car? If yes, start by checking around the areas touched during the repair for any loose connections.
Is the problem constant or intermittent? If intermittent it could indicate a loose connection as well.
I grappled with this same problem for a while, along with other related issues such as difficulty starting in the morning, stalling at stop lights, poor gas mileage etc. It turned out to be the wiring of the Throttle Valve Actuator.
If you search in these forums you'll find a whole lot written about this, and how you can re-wire the Throttle Valve Actuator - if it is the offending part that is (the price of a new or even S/H one is rather annoying)
Actually the Actuator itself rarely goes bad, the biggest culprit is almost always the wiring into it. If you remove it and inspect the wires inside you're likely to find the insulation all cracked and flaky, and it's all to do with the quality of material used in the manufacture (I hear they wanted it bio-degradable) Should this be the case, you may want to renew the Actuator or alternatively have it re-wired (with real automotive-quality stuff)
However, with the limited description you've given of the problem it would be difficult to categorically lay blame on the Throttle Valve Actuator wiring exclusively.
Maybe you could start off by checking the main Engine Wiring Harness for any visible signs of degradation / disintegration of the insulation (again this was a major issue with your model year). Try gently twisting/bending/pulling/pushing on the visible cables and connectors of the engine harness and the actuator while listening for any changes in the idling speed. (CONSTANTLY KEEP IN MIND THAT WITH THE ENGINE RUNNING, THERE IS DANGER OF ELECTRIC SHOCK, BURNS AND OTHER INJURY - SO BE CAREFUL)
By the way the Actuator's connector is a very strong animal, and so is the outer insulation of the cable connecting into it, so it could deceive you with its looks. The wires running in it are the problem. Bio-degradable
Please post back with your findings.
---
R. Mugavana
BenzWorld Junior Member
Date registered: Sep 2011
Posts: 8
Mentioned: 0 Post(s)
Quoted: 0 Post(s)
(Thread Starter)
Hello,

thanks for your answer, if I do the re-wiring or have a friend to do it, do I need to reset the cars computer or do some re-configuration?
BenzWorld Junior Member
As it is right now, it has already thrown and stored the error codes you referred to to the computer causing it to run in "Limp Home Mode" and will need to be cleared once the repair has been done.
...And no, you will not need to do any computer re-configuration after the re-wiring of the Actuator.
So did you pull out the Actuator and find it suspect? I ask this because whereas the diagnostic fault codes all relate to the Throttle assembly as you state, it does not necessarily mean that the Actuator is actually faulty. You are likely to get these error codes (probably several more in addition to these) even when it's a short-circuiting engine wiring harness.
What is the condition of the Engine Wiring Harness?
By the way, it is always useful to respond with your findings on the various possibilities / suggestions that you'll get from the forum. Not only will it help us in the process of elimination / troubleshooting / diagnosis...of your car's problem but also in developing a knowledge base for others who may encounter a similar issue in future.
---
R. Mugavana
BenzWorld Junior Member
Date registered: Feb 2012
Vehicle: C280 E320
Posts: 10
Mentioned: 0 Post(s)
Quoted: 0 Post(s)
hi mugavana,
I've attached a photo of the throttle housing. Is this the throttle valve actuator you are talking about?
I have a 94' C280. I've just replaced a new MAF and the hesitating idling is still around. However, the car is fine if I remove the MAF. Do you have any idea why? I've read other thread that it could be the OVP and/or fuel pump relays. I have not changed these two relays but am planning to. Your advice is greatly appreciated and so is anyone else's.
I'm trying to see if i could figure it out before spending the big bucks on it with the mechanic.
Thanks a mill!
BenzWorld Junior Member
Hi DIY Merc Owner,
Yes, that is your Throttle Valve Actuator.
You may want to check the condition of your engine wiring harness as well, as they are known to fail with time. A whole lot has been said about this problem in these forums.
A failing Fuel Pressure Regulator could also present such problems.
Is the idling hesitation you're referring to constantly present (even with the engine at approx. 80°C) or is it there only after a cold start in the morning? Do your RPMs hunt during idling or is the idling just low (and stays low untill you give it some throttle)?
A more detailed description of the symptoms will help us all narrow down to the most likely culprit because there are so many things (including the ones you suspect) that could cause what you are describing.
Keep us posted

Ronald Mugavana
---
R. Mugavana
BenzWorld Junior Member
Date registered: Dec 2009
Posts: 8
Mentioned: 0 Post(s)
Quoted: 0 Post(s)
Same Problem
---
I also have an almost same problem. I am having a w202 C220, 1995 model. The problem i guess was there, maybe just waiting to strike. There were times i would have some flactuations of the rev counts. But just three weeks back, my engine was washed using the steam thing, wanted to check oil leak, so i just asked that they clean the whole engine. From that day its been misbehaving. If i press the accelerator hard it has the sudden flactuation in sound, and loss of power. If i drive over 100 km/h, it this series of flactuations, coupled by loss of power, as if you are pressing and realising the accelerator in series. I had a diagnostic test today, and pointed to the throttle valve actuator. i got the following codes:

DTC :014 Act val potentiometer throttle valve implausibly high

DTC :022, EFP, Actuator signals emergency mode

Does this mean i have to replace the throttle body, it cant be fixed?
BenzWorld Junior Member
DarangwaN,
In my view, the DTC 014 is being caused by short circuit in the throttle actuator cable. It is likely that at the time of washing the engine the actuator cable was disturbed (and we now all know that the insulation material used in that model period was quite lousy), there are wires touching each other. In your case it would most likely be one or more of the wires leading to Pins No. 1, 2, 3 and 7.
I'd advise you to first check for that using a simple multimeter, and if confirmed you could then explore the option of either replacing the actuator ($$$) or having it re-wired. Yes, if you are up to it you could re-wire it yourself, or have someone do it for you.
As for the DTC 022 you can be sure that it's being triggered by the DTC 014.
Of course DTC 014 could also (though, in my opinion, not likely) be caused by a similar short circuit in the corresponding wires between the actuator connector plug and the
connector to the ECU.
Eliminate this possibilities and post back please.
---
R. Mugavana
BenzWorld Junior Member
Date registered: Feb 2012
Vehicle: C280 E320
Posts: 10
Mentioned: 0 Post(s)
Quoted: 0 Post(s)
This is the photo of a bad throttle actuator. Mine turn bad after a mechanic cleaned it. As you could see in the photo, the plastic completely turned into powder as time passed (a very common problem in the 202 in those years).
After fixing the actuator, there are now other problems with my C280. My gearbox is not shifting until engine reaches at least 3,000rpm OR i release my foot from the throttle. It is driving me nut. Any idea why?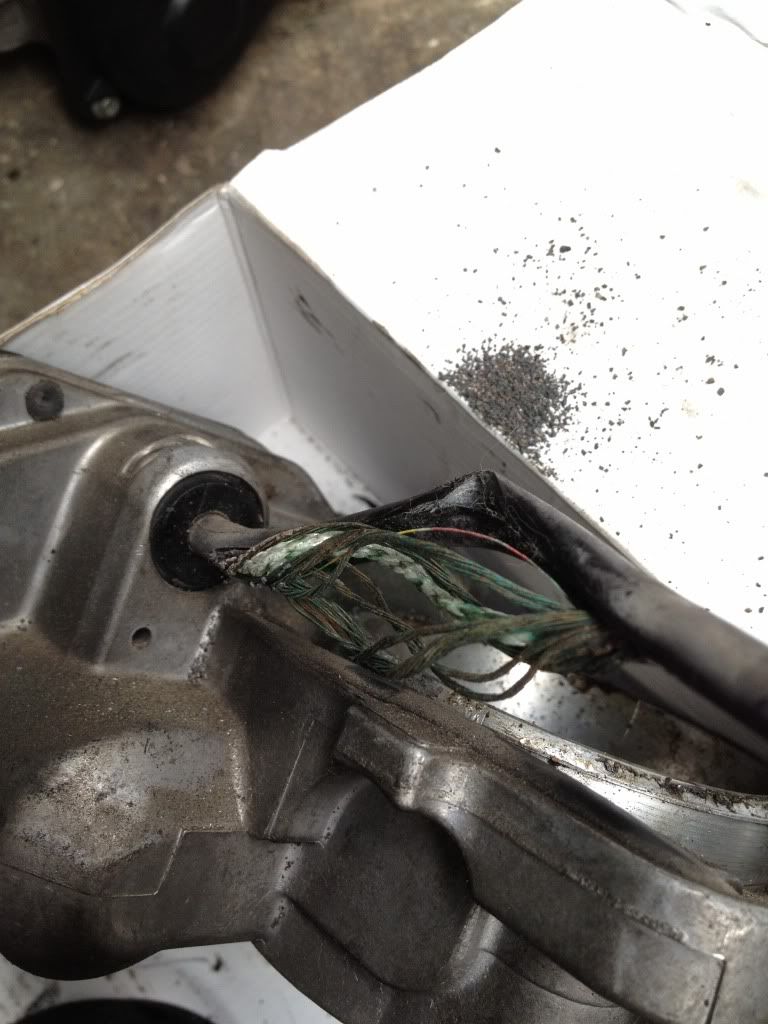 Currently Active Users Viewing This Thread: 1

(0 members and 1 guests)