BenzWorld Junior Member
Date registered: Aug 2009
Posts: 8
Mentioned: 0 Post(s)
Quoted: 0 Post(s)
(Thread Starter)
1990 190E Tune-Up
---
I have to get a tune-up and was wondering if the local tune-up place can do a decent job? I was told by the local benz shop it needs a major tune at over $500 which is a helluva a lot for me to afford. So can a local tune-up place do the job? If I can't afford the whole tune-up and need to do it in 2 steps what should I do first?

Thanks in advance
BenzWorld Elite
It'd be even cheaper to DIY and they aren't very difficult/dont require many tools.
Administratoris Emeritus
Date registered: Aug 2002
Vehicle: 2021 SL770
Location: Fountain Hills, AZ
Posts: 45,218
Mentioned: 2 Post(s)
Quoted: 751 Post(s)
Welcome to BenzWorld! I'll slide your query down to the W201 section, where you're far more likely to garner a helpful response from some like-minded enthusiasts. You might also consider completing your user profile, many find that information helpful in regard to providing you with the best possible response.
---
"If spending money you don't have is the height of stupidity, borrowing money to give it away is the height of insanity." -- anon
CH4S Artist
Quote:
I have to get a tune-up and was wondering if the local tune-up place can do a decent job? I was told by the local benz shop it needs a major tune at over $500 which is a helluva a lot for me to afford. So can a local tune-up place do the job? If I can't afford the whole tune-up and need to do it in 2 steps what should I do first?

Thanks in advance
Welcome to the forum.
Please click 'User CP' on the top toolbar and complete your profile with the car mod and location, to make it easier to answer your posts.
The forum archive has a wealth of information available at your finger tips.
The search function accepts 2 words of at least 3 letters.
For 'how to' / navigate the forum, please read the W126 tutorial, which applies to this forum as well
Benzworld.org - Mercedes-Benz Discussion Forum - Announcements in Forum : W126 S,SE,SEC,SEL,SD,SDL Class
Cheers
BenzWorld Member
Date registered: May 2009
Vehicle: 93 190e 2.6
Location: Miami, FL
Posts: 259
Mentioned: 0 Post(s)
Quoted: 0 Post(s)
yeee theres this auto shop and they were charging like 600 bucks im like wtf they said its because its a mercedes and its an important. i told them how does that have any bearing on the car, a car is a car, doesnt require any "special" stuff for it and all japanese cars are IMPORTS, i was like wowwww
Premium Member
Tune up usually consists of:

Spark plugs
Spark plug leads/wires
Air filter
Fuel filter
Distributor cap
Distributor rotor
oil/filter

I'm sure you could do all this for a fraction of what you were quoted. VERY easy to do.
---
1980 Mercedes 280TE AMG Under Construction
1989 Mercedes 560SEC in transit to Europe
1990 Mercedes 560SEL with AMG parts modifications
1991 Mercedes 190E AMG with Brabus 4-cyl M102 2.6
BenzWorld Elite
Date registered: Apr 2009
Vehicle: 96 E-320, 91 190E, various and sundry Euro and American vehicles
Location: N/W Chicago in the cornfields
Posts: 12,141
Mentioned: 0 Post(s)
Quoted: 2 Post(s)
Wires are the pricey items on that list. They may not need done. Test at night with a water plant misting bottle. Spray water on the wires while running and see if you have a light show of spark arc. Visually inspect them as well. A OEM set can cost ~$80,oo or so.
Or you can find a good aftermarket set cheaper.

The other items are cheap.
Air filter can be a problem locating the right one, depending on the model. My 91 had a real offbeat one that was not on the books. What was called for and what was req'd were different.

You're looking at an hour of your time, if you are new at it. Few tools. A few screwdrivers and a socket set (with a plug socket).A oil filter wrench.

Total for the list above? ~$175.oo, and that is above and beyond tune (an oil change is not a tune up item, but smart)

aardvark.
BenzWorld Elite
Date registered: Jul 2006
Vehicle: 96 C36, 87 Turbo'd 190E 2.3-16, 86 SC'd 190E 2.3-16, Brabus'd C32
Location: MASS
Posts: 1,626
Mentioned: 0 Post(s)
Quoted: 0 Post(s)
and at the same time you can actually "tune" your air/fuel in a matter of seconds with an allen head, which the shop probably wouldnt do (or even know how to).
Dont take it to a shop just take a few minutes and save 600 bucks. If your local ill do it for a cookie.
---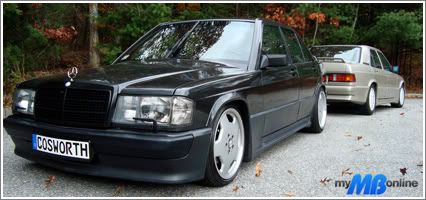 87 190E 2.3-16 Cosworth
- Track car-Getrag, short shift, delrin, 95a poly, Euro'd, 2 tone Recaros, custom suspension, EFI w/ Megasquirt, cast iron headers, Garrett turbo...
86 190E 2.3-16 Cossie
-Old beater Getrag, slammed on BBS' Mosselman ECU, Eaton M62 SC
03 C32 ///AMG
- Daily- designo edition, command, fulll Brabus CF interior, CF lips mirrors spoilers ect, and enough engine mods to destroy 911's
BenzWorld Junior Member
Date registered: Aug 2009
Posts: 33
Mentioned: 0 Post(s)
Quoted: 0 Post(s)
Normally, I won't touch the air/fuel mixture without a CO meter.
Spray wd-40 to spark plugs, sit several hours or even overnight, head totally cool off, before remove the spark plugs.
Most spark plugs & ignition wires are with resistors now. 109e do not require double resistors. I purchesed @ NAPA copper ign wires & metal spark plug caps. Soldier the caps to wires. Total cost, $15, this are better than any ign wire sets.
Currently Active Users Viewing This Thread: 1

(0 members and 1 guests)