BenzWorld Newbie
Date registered: Jul 2013
Posts: 3
Mentioned: 0 Post(s)
Quoted: 0 Post(s)
(Thread Starter)
1957 L319D transport
---
Hello everyone,
Brand new member here, and brand new to Mercedes.
I'm a lifetime classic car finder, but primarily vw's and secondary a variety of other makes. Basically anything interesting and different catches my eye.
For the most part it's the hunt and rescue i've always enjoyed.

Having said that, some months ago a friend sent me a link to a 57 l319d truck/van in our local area. Small ad with little info.
Id never seen one before that day.
Long story short, after months of discussion, the van now resides with me.
IT has a long history, coming from the original family, who converted it, beautifully i might add, to a camper, to tour the world in.

IT has been parked since 1980 and not run.
The best part of this van is it still has all of it's original trip wares inside the van.
THey did a few long trips withing canada to test out thier creating in the first years.
It left Victoria BC canada in 1964 to cross canada and be shipped to Europe and then again in 67. Both times they spend two years travelling the wold inside the little machine. The rear cargo doors have every city/country hand painted on the outside to document the trip.
IT's really fantasitic!!

It's very solid with basically no rust, but has sat in a carport for over thirty years.

I've restarted just about every type of car and engine after decades of sitting, but not a diesel.

Can any of you offer me advise on this?
Do i need to pull everything and open it up? injector pump? Glow plugs? ect
Or, becuase of the fact that it's diesel, would it have a level of protection in the fuel properties.
I'm not even aware of whether or not diesel breaks down over time or what happens to it.
Obviously i need to clean everything out and fresh fuel at the very least, but any other tips and help would be greatly appreciated!!
Regards
Thomas
BenzWorld Member
Date registered: May 2013
Vehicle: 1983 Mercedes 300SD Turbo
Location: Tampa, FL
Posts: 64
Mentioned: 0 Post(s)
Quoted: 0 Post(s)
Welcome I think your thoughts are on the right track, Probably need some StarTron Diesel additive for the fuel tank. It gets rid of the water and enzyme that grow in diesel.
---
Isn't is great how music makes a bad day better.
---
Last edited by engtaz; 07-03-2013 at

06:59 AM

.
BenzWorld Member
Date registered: Feb 2009
Posts: 57
Mentioned: 0 Post(s)
Quoted: 0 Post(s)
I am very interested in this 319d .
Please let meknow any info serios buyer.
finder fee paid too


thanks so much

contact info
Dave
860 315 7693
dporsche AT hotmail.com
BenzWorld Elite
Date registered: May 2003
Vehicle: 2012 Focus SE
Location: Ormond Beach, FL
Posts: 7,704
Mentioned: 1 Post(s)
Quoted: 70 Post(s)
Pics, please.
---
Felicita e un bicchiere di vino con un panino.
BenzWorld Member
Date registered: Feb 2009
Posts: 57
Mentioned: 0 Post(s)
Quoted: 0 Post(s)
they look like this .......
BenzWorld Elite
Date registered: Oct 2009
Vehicle: 2000 VW Golf Variant
Location: Leiden, Netherlands
Posts: 2,952
Mentioned: 0 Post(s)
Quoted: 4 Post(s)
You can flush the diesel pump with regular gas using the hand pump, that can free up fuel elements that got stuck. Leave the gas in the pump for a while, and afterwards flush with fresh diesel until the fresh diesel comes out of the return line.
The diesel pump has it own oil supply, so that needs new oil too (as does the engine).
The air filter is probably a oil-sump version, so replace the oil in the air filter too.
The spring inside the governor of the diesel pump has been compressed for a long time, that can cause performance issues. Replace if necessary.
The injectors are in a unknown condition and have not seen any action for decades. You might want to consider rebuilding them.
The membrane of the diesel pump governor might have dried out and may be leaking air, that will cause a high idle or a runaway diesel. Under normal conditions it would get sprayed with oil/diesel, keeping it wet and air tight.
New main diesel filter and new prefilter, but you probably know that.
Engine oil filter consists of two parts: a re-usable main filter that looks like two discs on top of each other. The dirt is on the outside. Be careful not to get dirt inside.
Underneath is a bypass filter, which can be replaced.
If you start it for the first time, stand ready with something that can be put before the air intake (a plank of wood for instance), so that you can kill the engine in an emergency, although pushing in the start/stop knob should normally do the trick.
If the handpump doesn't work anymore, it can be replaced.
Engine is between the seats: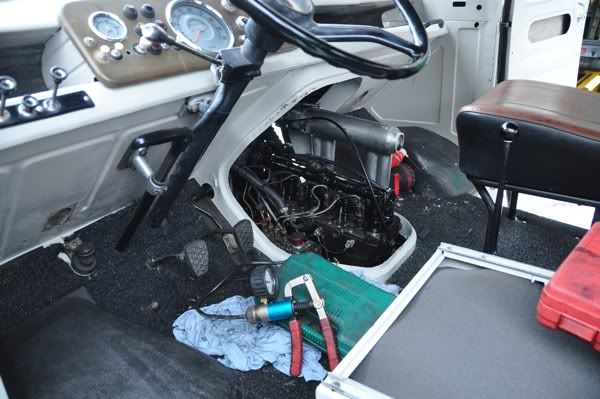 and you need to remove the front to turn the engine: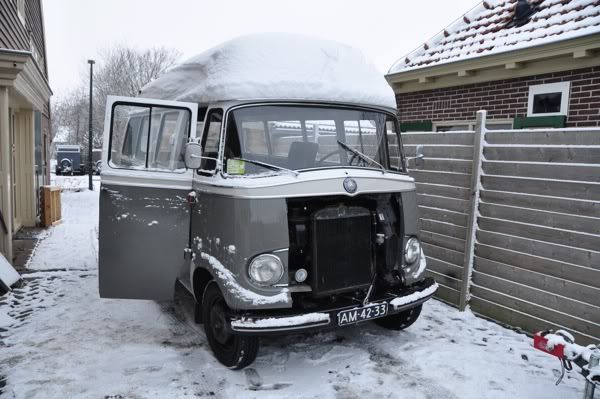 BenzWorld Newbie
Date registered: Jul 2013
Posts: 3
Mentioned: 0 Post(s)
Quoted: 0 Post(s)
(Thread Starter)
Thanks for the info on startup.
I have not had the time to try anything on this van as of yet, but hope to get there one day.
If anyone would like to contact me about the Van, please do so at
barndoors@gmail.com
Thanks
T.
Currently Active Users Viewing This Thread: 1

(0 members and 1 guests)