BenzWorld Junior Member
Date registered: Aug 2012
Posts: 14
Mentioned: 0 Post(s)
Quoted: 0 Post(s)
(Thread Starter)
removing head 220d- cant detach
---
BenzWorld Veteran
Date registered: Aug 2009
Vehicle: '72 250C, '74 280C, '85 500SEL, '81 300CD.
Location: Tucson, Az.
Posts: 652
Mentioned: 2 Post(s)
Quoted: 49 Post(s)
Don't forget the two allen heads in the front (almost hidden by the timing chain) and there is a bolt on the front left which is always overlooked.
BenzWorld Junior Member
Date registered: Aug 2012
Posts: 14
Mentioned: 0 Post(s)
Quoted: 0 Post(s)
(Thread Starter)
ok got to the 2 behind the timing chain, now the head is loose and able to move except the big metal chain tensioner is keeping it from lifting off completely. tried a few different bolts that I thought it was connected to at the bottom but no difference. Any tips here?
BenzWorld Elite
Date registered: Oct 2009
Vehicle: 2000 VW Golf Variant
Location: Leiden, Netherlands
Posts: 2,952
Mentioned: 0 Post(s)
Quoted: 4 Post(s)
It is held by a pin through the front of the engine head. You need an impact puller and a thread to get it out.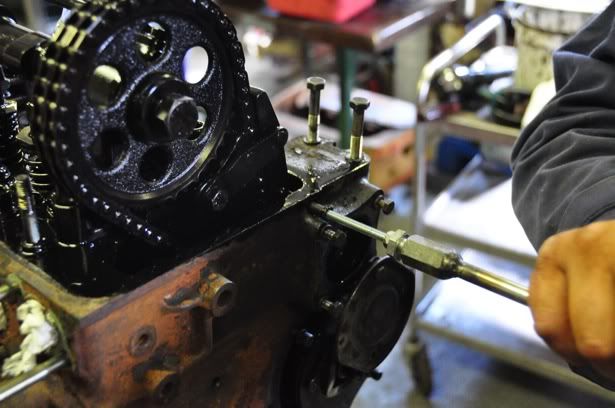 BenzWorld Member
Date registered: Jun 2010
Vehicle: 1966 MB 200; Porsche 914 (6); Porsche 914 (Chev 350); 36 ford
Location: Sunnyvale, CA
Posts: 343
Mentioned: 0 Post(s)
Quoted: 16 Post(s)
you can also use a bolt, socket and a bunch of washers to pull out the bolt.

--brett
Currently Active Users Viewing This Thread: 1

(0 members and 1 guests)