BenzWorld Junior Member
Date registered: Jun 2011
Posts: 14
Mentioned: 0 Post(s)
Quoted: 0 Post(s)
(Thread Starter)
Need advice on buying '73 450SL My first Mercedes, maybe.
---
I have talked to a man about buying his 1973 450 SL with 107,000 miles on it and am going to look at it later today. I have never owned a Mercedes and do know what specific things I should look at or ask about for this particular model and year.
I have not yet seen the car but have been told by the seller [ a stranger to me] that it runs and drives well. He says.....the brakes work well and the body is rust free except for a spot of surface rust and some cracked pain on the hood. I have seen pictures and the body looks nice. the convertible top is said to be good and appears so in the pictures.

So.... what problems were common on this model? Are common parts expensive? Things like brakes, water pump, fuel pump and so on.
the price is $4500 obo. If all is as described is this a fair price?

Any other buying advice for this make and model is welcome.

About me, I have owned only one convertible before, a Miata that I liked but it was a little small inside. I am an experienced mechanic and normally do my own basic maintenance and repairs. This would be driven as a weekend toy in the summer and I would like to be able to tow a 1000 pound boat with it once in a while.

Thanks for your help. Al.
BenzWorld Senior Member
Date registered: Aug 2006
Vehicle: Daisy- 1972 350sl 10704310 and Gina- 1969 Alfa Romeo round tail spider- NEW** 1989 560SEC white 64k
Location: Trussville, Alabama
Posts: 540
Mentioned: 0 Post(s)
Quoted: 82 Post(s)
Al,

I will respond in general.

1- Rust
2- Rust, rust and more rust.
3- Get a PPI by a good shop.
4- By the best example you can afford.
5- If you are not the DIY type, these cars are EXPENSIVE to fix. And even more expensive to restore.
6- Do not by the car sight unseen. Go see it and drive it. Only you will know if its the right example for you.
BenzWorld Member
Date registered: Dec 2009
Vehicle: 2012 Toyo Camry SE, 1987 420 SEL, 1982 300 CD (Gone but not forgotten)
Location: Nor Cal
Posts: 230
Mentioned: 0 Post(s)
Quoted: 0 Post(s)
You might also want to post this on the C/R 107 forum (1972 to 1988 SL).
Unless you are in love with the early body style (minimal body changes during the 16 year run). 4500 sounds like a bit of money the car should be top notch with service recoreds etc. make sure the chain guide has been changed. For a little more 500 - 700 you could get a later model 560 SL. Not as low mileage but more technically advanced.
BenzWorld Elite
Date registered: Oct 2006
Vehicle: 1979 280CE
Location: Jacksonville, Florida
Posts: 6,116
Mentioned: 0 Post(s)
Quoted: 2 Post(s)
A 1973 450SL is great car when its running right. Be absolutely sure it runs good, that car has pesky trigger points for the fuel injection system, and a costly fuel pump. It has the very early Electronic Fuel Injection System, D-Jetronic.

Those trigger points are expensive IMO if they have to be replaced, sometimes they can be cleaned if they are giving you trouble.
---
'79 280CE with 226,000 miles
'76 240D 4 speed with 190,000
'85 300D Turbo with 266,000 miles
GONE but not forgotten
'76 300D with 195,300 miles
"83 300D with 174,000 miles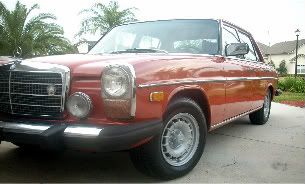 BenzWorld Member
Date registered: Feb 2010
Vehicle: 1972 280SEL daily driver. 904 Dark Blue with cognac interior. euro 4.5 engine
Location: Williamsburg, VA
Posts: 322
Mentioned: 3 Post(s)
Quoted: 39 Post(s)
I have owned a 78 450SL (same engine, different fuel injection system) and currently own a 72 280SEL4.5 (same engine and fuel injection system, different body).

First, the bad. I will confirm that the number one thing is RUST, RUST, RUST. These cars almost never have surface rust, they rust from the inside out. The next thing is timing chain, tensioner and guides. these cars have a timing chain that is about 6 feet long. They stretch and break (change them every 100,000miles). When they break, the $4500 purchase price will look cheap. The other thing is camshaft oilers. They plug and quickly ruin the camshaft.

The good. I love the 72 and 73 SL years becaus of the small bumpers. I love the 4.5 liter engine. Runs strong and has lots of torque. I put 250,000 miles on my SL and my SEL has about that on it. The SL rides and drives great. They were not known to have the best air conditioners so be prepared to drive only on nice days.

Good luck.
Currently Active Users Viewing This Thread: 1

(0 members and 1 guests)