BenzWorld Junior Member
Date registered: Dec 2010
Posts: 8
Mentioned: 0 Post(s)
Quoted: 0 Post(s)
(Thread Starter)
'72 220D AC Troubles
---
I have a 1972 220d, and can't seem to fix the AC. As far as I could tell, the only problem was that the fans were worn out. After poking around inside my dashboard with some electrical meters, I discovered that the fans weren't getting any power. All my fuses and such are intact, and I've no clue what to do, now. The only clues towards the problem I've found were two blue wires that weren't connected to anything on one end. There was also a 10" length of brown wire, with connectors on both ends- but it wasn't attached to anything.

Does anyone have any ideas for fixing this?
BenzWorld Elite
Date registered: Oct 2006
Vehicle: 1979 280CE
Location: Jacksonville, Florida
Posts: 6,116
Mentioned: 0 Post(s)
Quoted: 2 Post(s)
There is a vacuum actuator under the dash on the drivers side just above the accelerator pedal. That actuator rod should go up when the green AC knob on the console is turned clockwise. Then turn the defroster switch to one of the 3 speeds, fan should come on.

Most people have vacuum leaks. Push that actuator rod up with the your hand and see if the fan comes on.
---
'79 280CE with 226,000 miles
'76 240D 4 speed with 190,000
'85 300D Turbo with 266,000 miles
GONE but not forgotten
'76 300D with 195,300 miles
"83 300D with 174,000 miles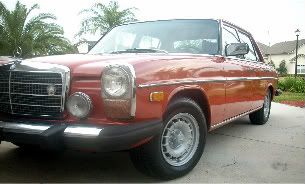 BenzWorld Member
Date registered: Feb 2011
Vehicle: 1973 220D
Location: California
Posts: 295
Mentioned: 0 Post(s)
Quoted: 1 Post(s)
Exactly it's a different fan from the defroster but the same switch.

Good luck


Frank Flynn. Poet, Artist & Mystic
BenzWorld Junior Member
Date registered: Dec 2010
Posts: 8
Mentioned: 0 Post(s)
Quoted: 0 Post(s)
(Thread Starter)
I checked under the dash, and found the rod you guys were talking about... It started in the up position, and went down when I turned the green knob. I couldn't move it by hand without turning the knob in either direction, and the fans still didn't come on.
Is there anything that might be preventing them from getting power? The fuses are all intact, and there aren't any wires missing from the back of the housing.
Currently Active Users Viewing This Thread: 1

(0 members and 1 guests)
Similar Threads
Topic
Author
Forum
Replies
Last Post
What is a 220D Bar 8

engnenk

Vintage Mercedes-Benz

7

09-21-2010

12:09 PM

tdc 69 220D

tdc

General Mercedes-Benz

1

08-29-2009

03:27 PM

220D???

cooljjay

W123 E,CE,D,CD,TD,TE Class

11

12-09-2008

03:36 PM

220D Help

screwjackfoo

Vintage Mercedes-Benz

2

11-16-2005

04:02 PM

220d

chow

Vintage Mercedes-Benz

0

06-20-2004

08:13 AM