BenzWorld Newbie
Date registered: Oct 2009
Posts: 2
Mentioned: 0 Post(s)
Quoted: 0 Post(s)
(Thread Starter)
'62 220SE torque specs for head bolts, rod bolts?
---
Hello all,

I'm having trouble finding this information. I'm refitting the pistons and the head for my 1962 220SE coupe, and I need to to know the torque specs for the rod bolts and head bolts (including the small allen-head bolts used on the head). I suppose I could also use torque specs for the oil pan bolts (the ones that hold the entire pan to the block).

I'm also looking for a valve stem seal set for this car. I've only found two sources (Autohaus AZ and CarPartsDiscount), and both are backordered, with an expected delivery of 1-2 months. Any other sources for these?
BenzWorld Elite
Date registered: Oct 2009
Vehicle: 2000 VW Golf Variant
Location: Leiden, Netherlands
Posts: 2,952
Mentioned: 0 Post(s)
Quoted: 4 Post(s)
It is on the Factory Service Manual:
Rod bolts 37 Nm
Head bolts 78 Nm cold engine. Run engine hot until 80 degrees Centigrade, then 88 Nm. It needs retightening after 300-1000 km. Loosen bolts (one by one) before retightening. Drench the bolts and nuts in oil.
The allen bolts don't have a specific torque. See the note on the second picture: use a hand key it says in German.
The values below are in mkp, for Nm or lb/ft use conversion tables/website.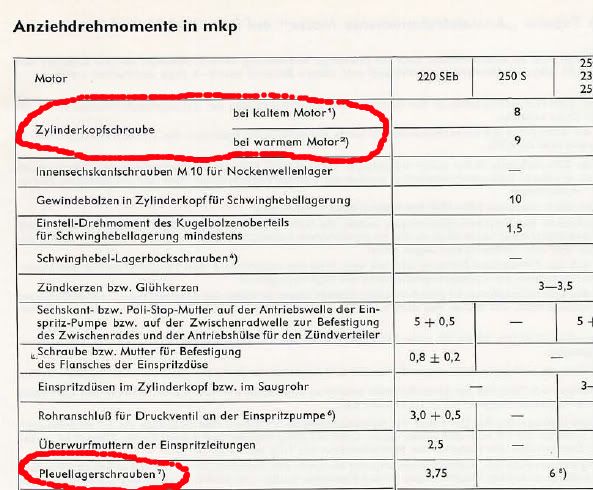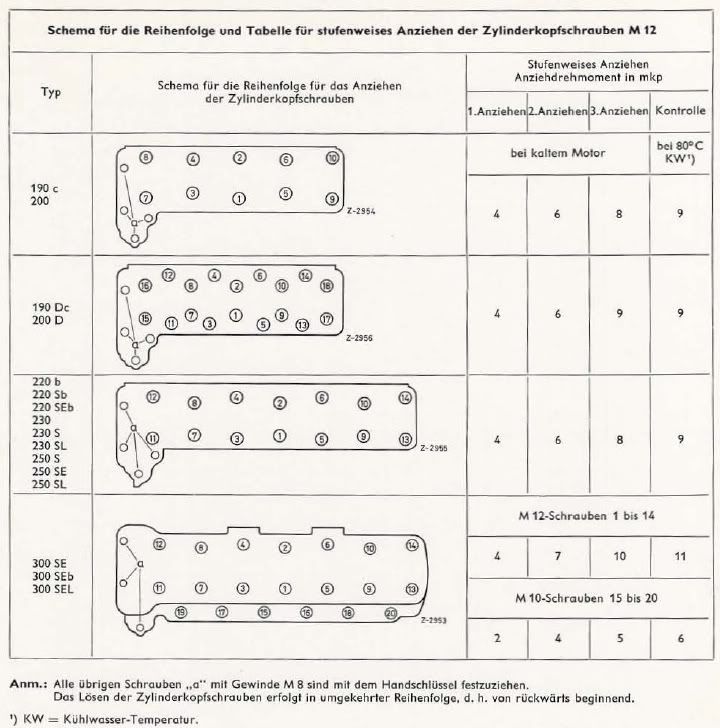 ---
Last edited by Govert70227; 07-09-2010 at

05:47 PM

.
BenzWorld Newbie
Date registered: Jul 2010
Vehicle: 1964 Mercedes Benz 220 S
Location: Portland Oregon
Posts: 4
Mentioned: 0 Post(s)
Quoted: 0 Post(s)
you might be able to get the valve stem seals through the classic center, I would email them as I never get anyone via the call line. the address is
Mercedes-Benz - Home of C, E, S, CLK, CLS, CL, SLK, SL, SLR, R, GLK, M, GL, G Class - Heritage - Classic Center
this is a good resource for new parts.
Currently Active Users Viewing This Thread: 1

(0 members and 1 guests)