BenzWorld Junior Member
Date registered: Mar 2010
Posts: 5
Mentioned: 0 Post(s)
Quoted: 0 Post(s)
(Thread Starter)
1977 280 se - Need help identifing a part
---
Part Location: Passenger side upper fire wall near fender. Description 4X6 cylunder with cabble extending from the front that runs to accellerator linkage? Any body know the name of the part? Function?
BenzWorld Elite
Date registered: Oct 2006
Vehicle: 1979 280CE
Location: Jacksonville, Florida
Posts: 6,116
Mentioned: 0 Post(s)
Quoted: 2 Post(s)
Sounds like the cruise control actuator.

Post some pics of your 280SE, we would love to see it.
---
'79 280CE with 226,000 miles
'76 240D 4 speed with 190,000
'85 300D Turbo with 266,000 miles
GONE but not forgotten
'76 300D with 195,300 miles
"83 300D with 174,000 miles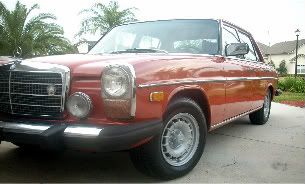 BenzWorld Member
79mercy's on it. that would be your servo (or actuator) for your cruise control. theres a vac line, a bleed line, and a 2-wire connector at the bottom on the inboard side. your tempomat amplifier (the big tin box above the brake pedal) modulates the amount of vaccum the servo pulls, holding the throttle to maintain a set speed regardless of load. these components are notorious for being schizo, btw.
Currently Active Users Viewing This Thread: 1

(0 members and 1 guests)