BenzWorld Newbie
Date registered: Jan 2010
Posts: 2
Mentioned: 0 Post(s)
Quoted: 0 Post(s)
(Thread Starter)
'76 450 SLC. Electrical issues? Please Help!
---
Hi,
My name is Tyler and I recently purchased a gently used, beautiful green '76 450. It's a champ and it sings on the highway, I love this car. Yesterday morning however, I started up and drove down to Walkgreen's (block and a half away), came out five minutes later and had a dead battery (or so it appeared, no lights, wouldn't start, etc.) Walked home and got the jumper cables and drove my girlfriend's car over, but jumping wouldn't work. Took the battery in to autozone and had it tested.... good battery. Now i'm left wondering what it could be... i'm thinking short/bad connection/corroded wires somewhere along the 7 foot journey they have to take from the trunk, but i'm still not sure. When i get in and leave the door open, it buzzes at me when i put the key in and today i got the stereo to work, but if i try to start it or turn the lights off, it all goes dead. Any help at all would be much appreciated, i'd rather do this myself than take it to anyone else.
BenzWorld Elite
Date registered: Oct 2006
Vehicle: 1979 280CE
Location: Jacksonville, Florida
Posts: 6,116
Mentioned: 0 Post(s)
Quoted: 2 Post(s)
Bad ground problem, clean the ground from the battery to the body.
---
'79 280CE with 226,000 miles
'76 240D 4 speed with 190,000
'85 300D Turbo with 266,000 miles
GONE but not forgotten
'76 300D with 195,300 miles
"83 300D with 174,000 miles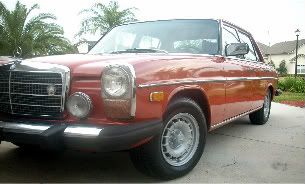 BenzWorld Veteran
Date registered: May 2009
Vehicle: S430 93K; E420 243K; 240D 242K
Location: Near Sublimity, Orygun
Posts: 625
Mentioned: 1 Post(s)
Quoted: 65 Post(s)
Not sure on your Benz, but there could also be a ground strap from the engine to the firewall or fender well. If so, clean & re-attach at both ends.
BenzWorld Newbie
Date registered: Jan 2010
Posts: 2
Mentioned: 0 Post(s)
Quoted: 0 Post(s)
(Thread Starter)
you're awesome. she's singing to me again.
Currently Active Users Viewing This Thread: 1

(0 members and 1 guests)
Similar Threads
Topic
Author
Forum
Replies
Last Post
'73 450 SLC help.

Cabot

R/C107 SL/SLC Class

8

05-10-2009

08:15 AM

77 450 slc/ 79 500 slc

dtresserd

R/C107 SL/SLC Class

2

05-13-2008

01:40 PM

450 SLC

tobybul

R/C107 SL/SLC Class

11

07-11-2007

05:50 PM

450 slc

geoff2005

R/C107 SL/SLC Class

1

06-28-2005

06:40 AM

'72 450 SLC

Guest (MBNZ)

R/C107 SL/SLC Class

0

06-25-2002

05:38 PM