BenzWorld Newbie
Date registered: Nov 2009
Posts: 3
Mentioned: 0 Post(s)
Quoted: 0 Post(s)
(Thread Starter)
220D 4-Spd fit into 300D???
---
As the title states, does anyone know if the 4-speed tranny from my 220D would be able to be hooked up into a 300D of the same body type (w115)?

I am thinking of swapping out an auto transmission in a 300D with that of the 200D 4 speeder.

Thanks,
c
BenzWorld Elite
Date registered: Oct 2006
Vehicle: 1979 280CE
Location: Jacksonville, Florida
Posts: 6,116
Mentioned: 0 Post(s)
Quoted: 2 Post(s)
Yes, it should work.
---
'79 280CE with 226,000 miles
'76 240D 4 speed with 190,000
'85 300D Turbo with 266,000 miles
GONE but not forgotten
'76 300D with 195,300 miles
"83 300D with 174,000 miles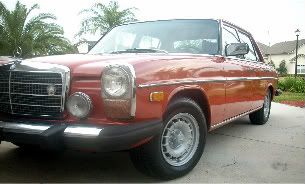 Currently Active Users Viewing This Thread: 1

(0 members and 1 guests)
Similar Threads
Topic
Author
Forum
Replies
Last Post
Will these tires fit my 1990 300d

ted5487

The Discount Tire Direct Tire, Wheel, Brake & Suspension

1

01-26-2009

10:08 AM

4 spd or 5 spd badly needed for 300GD 460

mserpe

G-Class

0

01-29-2008

03:44 PM

What on 230TE will fit 300D?

DZL_Damon

W123 E,CE,D,CD,TD,TE Class

5

11-06-2006

05:02 AM

Turbos on the non turbo engines 220D 240D 300D....people have done it!

DieselKraut

W123 E,CE,D,CD,TD,TE Class

23

02-13-2006

02:07 AM

will rims fit my 93 300D?

gordinho80

The Discount Tire Direct Tire, Wheel, Brake & Suspension

1

02-04-2003

05:21 AM