BenzWorld Newbie
Date registered: Sep 2009
Vehicle: 1973 MB 220D
Posts: 3
Mentioned: 0 Post(s)
Quoted: 0 Post(s)
(Thread Starter)
'73 220D advice with fuel injection pump
---
Greetings to all,
Newbie here, 1st post.
Still have your 220D? I think I need a fuel injection pump (part #0400 114 045) from any 220D (chassis #115 110 107), running or not. A local shop (Southwest Diesel) will rebuild it for me if need be. Please give me a fair quote, including your cost to remove from engine & ship to zip 85021.
Mechanic advice also requested:
So far, I've got fresher fuel, already changed fuel injectors (all 4 were clogged!), tested compression 2x (cranks solid, all cylinders @ ~310 psi/21 bar), replaced 4 faulty glow plugs (new ones test ok), installed all new filters and hoses, and changed the vacuum pump diaphram (after cleaning oil from transparent vacuum lines). All fuses a-ok.
Car still doesn't start well; always requires 2-3, eight-second-long cranks of the starter to turn over. She's done that since I bought her 2 years ago, yet both of my other diesels (VW's - an '03 Jetta & '81 Rabbit P/U truck with WVO kit) always start up first time I turn the key, even in winter! Does not matter whether I use fresh #2 diesel, locally purchased "legal" b100 biodiesel, or my own homebrewed b100 (been makin' it for years).
No WVO greasecar kit in the Benz (yet), so it's obviously not a viscosity problem. Have used b100 bio-d in this car since I got her, but now using only #2 ultra-low-sulfur diesel. My injection pump seems to run dry of oil too quickly; refilling about every 2 weeks. Is this normal? Do you think using the b100 has maybe dissolved the seals, etc. in the IP?
Once she starts, she runs well if I keep her under ~40mph. But as soon as I accellerate above that speed she bucks and acts as if not enough fuel is getting into the engine. After slowing down and parking, idle becomes regular again.
Help!!! Any advice would be welcomed, even from anti-biodiesel believers.
Thanx!
kerry
BenzWorld Elite
Date registered: Oct 2006
Vehicle: 1979 280CE
Location: Jacksonville, Florida
Posts: 6,116
Mentioned: 0 Post(s)
Quoted: 2 Post(s)
Have you cleaned the tank strainer?

DONT USE WVO IN THE 220D
---
'79 280CE with 226,000 miles
'76 240D 4 speed with 190,000
'85 300D Turbo with 266,000 miles
GONE but not forgotten
'76 300D with 195,300 miles
"83 300D with 174,000 miles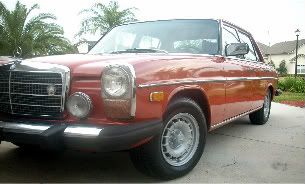 BenzWorld Newbie
Date registered: Sep 2009
Vehicle: 1973 MB 220D
Posts: 3
Mentioned: 0 Post(s)
Quoted: 0 Post(s)
(Thread Starter)
---
Thanx for responding 79Mercy,
No. Pardon my ignorance, but where exactly is the 'tank strainer'? This is my 1st Benz, btw. Is there a screen inside the tank (which I just filled up)? There's no electric pump w/screen in the tank, unlike newer gassers. Or do you mean the tiny see-thru, in-line filter under the hood - just before the hand primer valve? I've changed that one, and can see fuel going thru it (no sediment or air bubbles), but I've never been able to locate anything that looks like a screen in/near the tank. Where to look?
I think it still has the original tank in (because it's really rusty up near the filler neck), which gravity feeds the fuel from a hard line (steel?) sticking out from the forward-side of the tank. It seems like this line was factory-welded. There is no plate to remove it, although that's where I'd figure any 'tank strainer' screen should be positioned so one could clean it periodically, right? This hard line was cut before I got the car and a three inch rubber line was connecting it to the other hard line going forward to the IP. Maybe that's normal, or perhaps it got broken? Or cut on purpose - maybe vandalized for the diesel during the '73 and '79 gas rationing when fuel prices increased 400% overnight (the 1st time, not like the $1 to $4/gal. politically-charged increases we saw just a few years ago - thank you George Bush
). Google 'Peak Oil' in case you're not old enough to remember those events because they're sure to happen again in coming years, which is another good reason to learn to make bio-d and WVO tech.
Anyway, I've since replaced all of the filters and rubber fuel lines with clear braided polyvinyl lines because the rubber ones were old and got soft from 2+ years of b100 bio-d, and also because I like to be able to see if the fuel is actually running thru them adequately, without any air bubbles. Unfortunately, this new fuel-deficiency problem only occurs at higher speeds -- when I can't observe any fuel lines for blockages/bubbles - because I'm too busy driving! The way it's acting, it's got to be fuel-related! I should've never gone back to ULSD #2.
It's been known to destroy IPs after they've been pampered with fine bio-d.
Btw - why are you concerned with running WVO in THIS particular car.
It runs fine in all my other autos, also the home back-up dzl generator. Actually, WVO is better for ANY diesel, but ONLY when done properly, of course. It's what they were born to burn, just ask Rudolph Diesel.
kerry
Currently Active Users Viewing This Thread: 1

(0 members and 1 guests)
Similar Threads
Topic
Author
Forum
Replies
Last Post
Injection pump oring changeout advice for DIYer?

CBFintheODD

W210 E-Class

14

11-04-2008

06:01 PM

Fuel Injection Pump

220SEBC

Vintage Mercedes-Benz

10

09-13-2008

02:16 PM

Fuel Injection Pump

cchkaiban

W123 E,CE,D,CD,TD,TE Class

3

04-09-2007

06:43 PM

Rebuilding a fuel injection pump?

Benzoid123

W123 E,CE,D,CD,TD,TE Class

12

09-30-2006

09:46 PM

Fuel leak at injection pump...help!

no-blue-screen

W123 E,CE,D,CD,TD,TE Class

20

06-05-2006

04:59 AM