BenzWorld Newbie
Date registered: Aug 2009
Posts: 1
Mentioned: 0 Post(s)
Quoted: 0 Post(s)
(Thread Starter)
Help recognizing AMG wagon 1977
---
Hello,
Somebody is selling this 1977 model. The person got the car from his uncle. It only has 14000 miles. He doen't know much about the car and just selling it.

Is this an AMG model?
The strering wheel was the regular one, the engine top was chromed.

Thanks for all the help!

PS the car is 2800 USD/
BenzWorld Elite
i just saw a wagon with that body kit in rough shape on craigslist, someone posted a link to one here i think.

that body kit is not amg unfortunately, but even though i dont know who makes it it is still worth money in good shape.
interior shots of the dash would help identify if its a euro model, if i had to bet id say it is.
---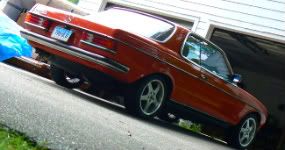 for sale: Car Domain 80 EURO 280CE M110.984 english red, white cloth interior 194k
daily driver: 93 toyota MR2, black 5spd non-turbo, may just have to remedy that
mopar: 62 chrysler newport 4DR white 361 V8, 36k miles

BenzWorld Elite
Date registered: Feb 2008
Vehicle: 2004 W220 (S430) ; 2001 R129 (SL500) Sport
Location: Alabama Gulf Coast--formerly Charlottesville, VA
Posts: 1,335
Mentioned: 0 Post(s)
Quoted: 0 Post(s)
What leads you to believe it's an AMG?

It has Euro bumpers and lights, which argues it is a Euro model. If it's in the US, it may be a gray-market car or it may have been imported to Canada and brought to the US. It will have AMG all over the dash and the valve covers should have AMG on them. You can run the VIN through our Russian friends and get the build sheet on it and that will tell you whether it was delivered as an AMG model or not.

The wheels are nothing Mercedes or AMG ever put on a car as OE. The absence of badging is either an owner-done thing or (I believe) debadging was optional on Euro cars (something to do with keeping the road tax man off balance). A polished valve cover is not Mercedes or AMG OE either.

I'm betting it's simply a Euro model that made its way into the US (if that's where it is--you don't tell us in your profile). Interesting, but not nearly so interesting as a Euro AMG would be. Not as quick, either.
---
"Don't pick a fight with an old man. If he is too old to fight, he'll just kill you."--John Steinbeck
Currently Active Users Viewing This Thread: 1

(0 members and 1 guests)