BenzWorld Veteran
Date registered: Jun 2004
Posts: 723
Mentioned: 1 Post(s)
Quoted: 17 Post(s)
Quote:
I checked the fuel pressure and flow rate before the fuel filter where the line comes into the engine compartment. I also checked flow and rate at the fuel line where it hooks up to the cold start valve. The values were the same at both locations. I know that it is very strange that my original observation was a blown fuel pump fuse. The current draw on the pump is normal though. The car still would not start after replacing the fuel pump fuse even though the pump started working again. After changing cap, rotor, points, condensor, wires and plugs, I got the car to at least start. This would lead one tho believe that the problem is ignition related. The whole picture is very confusing.

Dimitri
Turn the engine so it's at number top dead center as indicated on the damper on the front of the crank shaft.
In this position the cam shaft must ne at number one positon also. Remove the cam cover and check that the cam indicator slot on the front washer(see pic) lines up with raised line on the first cam bearing tower.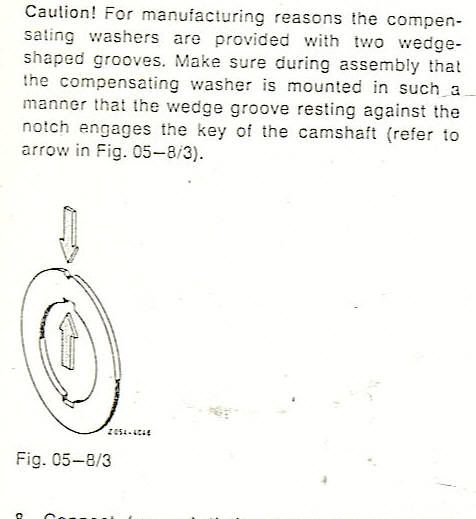 Now remove the distributor cap.
the rotor must line up with a very small groove in the outside edge of the distributor housing .
Adjust the distributor position to suit.
Check your point clearance.
Replace the distributor cap.
Check the firing order.
Number one plug lead must line up the rotor .
The distributor turns clockwise.
You didn't mention checking the resistance on both the resistors.
The values are stamped on the alloy bracket that holds them to the car.
Also,you have a 30+year old coil. They will run for years then fail.
Replace it now.
You didn't mention fuel quality or whether or not you changed the filter.
Change the filter as a matter of course.
Make absolutely sure there is NO water in fuel.
The car must now run.
---
Last edited by mercmad6.3; 05-21-2008 at

01:37 AM

.
Currently Active Users Viewing This Thread: 1

(0 members and 1 guests)