BenzWorld Newbie
Date registered: Nov 2007
Posts: 1
Mentioned: 0 Post(s)
Quoted: 0 Post(s)
(Thread Starter)
123 Mercedes rear end
---
New member and wondering if anyone can offer any information on the interchangeability of rear end parts and axles between 220D's and 240D's. I am parting out a 72 220D and have a 77 240D that needs axle and probably rear end work. Have not made any basic measurements yet.
BenzWorld Elite
Date registered: Oct 2006
Vehicle: 1979 280CE
Location: Jacksonville, Florida
Posts: 6,116
Mentioned: 0 Post(s)
Quoted: 2 Post(s)
I'm not sure what the ratio's are, but If I can find it I will let you know.
---
'79 280CE with 226,000 miles
'76 240D 4 speed with 190,000
'85 300D Turbo with 266,000 miles
GONE but not forgotten
'76 300D with 195,300 miles
"83 300D with 174,000 miles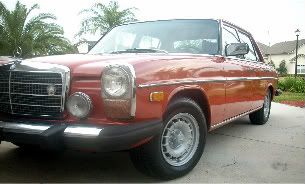 BenzWorld Newbie
Date registered: Jun 2006
Posts: 2
Mentioned: 0 Post(s)
Quoted: 0 Post(s)
I could use the 220D exhaust manifold...
---
Steinfeldt,

Do you have a 220D exhaust manifold you would like to sell?

Jared

kingslug at earthlink.net
Currently Active Users Viewing This Thread: 1

(0 members and 1 guests)