BenzWorld Newbie
Date registered: Dec 2006
Posts: 3
Mentioned: 0 Post(s)
Quoted: 0 Post(s)
(Thread Starter)
1977 300D Will Not Start
---
I have a 1977 300D that will not start. Sometimes it turns over a couple of times, then just stops. Also, the glow plug light does not come on. Sometimes it will not even do that. I replaced the glow plug system with a new pen style fast heating system complete with the controler. I have also replaced the starter, the wiring, battery, fuse box and fuses and the relay. However, nothing seems to correct the problem. Can any one suggest any thing else I can check or where I can go from here, to try and get it starting again? Thank you for your time.
Shelby
BenzWorld Elite
Date registered: Oct 2006
Vehicle: 1979 280CE
Location: Jacksonville, Florida
Posts: 6,116
Mentioned: 0 Post(s)
Quoted: 2 Post(s)
Come on over to the w123 section.
---
'79 280CE with 226,000 miles
'76 240D 4 speed with 190,000
'85 300D Turbo with 266,000 miles
GONE but not forgotten
'76 300D with 195,300 miles
"83 300D with 174,000 miles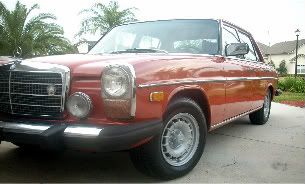 Currently Active Users Viewing This Thread: 1

(0 members and 1 guests)
Similar Threads
Topic
Author
Forum
Replies
Last Post
1977 300d Pics!

jkinsey

W123 E,CE,D,CD,TD,TE Class

10

11-14-2006

07:16 PM

1977 300D for sale...or???

DaveP

For Sale/Wanted/Trade/Giveaway

3

08-14-2006

07:29 PM

1977 300d Does not start!

thruhiker

W123 E,CE,D,CD,TD,TE Class

16

08-01-2005

06:18 PM

1977 300D -- need info on part name

TheBaker

Vintage Mercedes-Benz

0

12-19-2004

04:20 PM

1977 300d

1977300d

W123 E,CE,D,CD,TD,TE Class

1

07-31-2004

02:59 PM