BenzWorld Elite
Date registered: Sep 2003
Vehicle: 111.010
Location: Chicago
Posts: 1,844
Mentioned: 0 Post(s)
Quoted: 0 Post(s)
RE: W110
---
Quote:
GermanStar - 9/24/2005 7:44 PM

Except a 250SE W111 isn't a finny -- it's the later style W111. MB got a little outta control with their W111 designation, dontcha think?
The 111/112 coupes still have fins IMHO. Just not as sharp. They might be dolphin fins instead of shark fins[;)] I'd love to have one, I don't know if there is a better looking coupe out there and Mercedes is one of the few that makes a good looking coupe.
---
Search first, ask second!
BenzWorld Veteran
Date registered: Sep 2005
Vehicle: 1989w126
Location: Montreal
Posts: 708
Mentioned: 0 Post(s)
Quoted: 4 Post(s)
RE: W110
---
Tks Mercmad. Mixed up is only the visible part of the situation.


BenzWorld Senior Member
Date registered: Jan 2005
Posts: 499
Mentioned: 0 Post(s)
Quoted: 0 Post(s)
RE: W110
---
[:D][:D][:D]Thats OK![:D][:D][:D]
Actually My preference is for the W110 rear end on a W111 four door sedan,they have the best tail light deign which flows really nicely into the Fins,whereas the W111 sedan and coupe seem cluttered in comparison.
So what is your VIN first 3 numbers anyway?.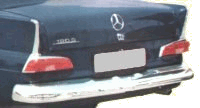 BenzWorld Junior Member
Date registered: Aug 2008
Vehicle: '62-200D, '98-S320, '00Camry(RIP) '92CE230(RIP), '98 RR4.6 (RIP Fire), '02 RR4.6HSE, '14RAM Laramie
Location: Sharjah, United Arab Emirates
Posts: 35
Mentioned: 0 Post(s)
Quoted: 0 Post(s)
can I exchange dashboard of W110 with W111?
Currently Active Users Viewing This Thread: 1

(0 members and 1 guests)