Premium Member
Date registered: Aug 2002
Vehicle: Mercedes
Location: NA
Posts: 8,775
Mentioned: 1 Post(s)
Quoted: 201 Post(s)
(Thread Starter)
FS: Vintage Mercedes European Delivery grille badge
---
I found a never-before-used, essentially NOS, front grille badge that was given out part of the European Delivery program. There are a couple of these badges on eBay with prices of $100+. I will take $55 shipped in the US for those interested.
BenzWorld Veteran
Date registered: Dec 2005
Vehicle: Many MBZ, Couple of 911s, couple of pick ups
Location: Grimes, Iowa
Posts: 624
Mentioned: 0 Post(s)
Quoted: 44 Post(s)
image
---
Would you be able to post an image of the badge?
---
Sherif Tewfik

70 280 SE/cab
72 280SE 4.5
78 6.9
80 280 SL
88 300 CE
94 E500
95 E420
95 E320 Cab
95 E320 Wagon
05 E55 Wagon
07 GL320 CDI
11 E350 4matic Wagon
Premium Member
Date registered: Aug 2002
Vehicle: Mercedes
Location: NA
Posts: 8,775
Mentioned: 1 Post(s)
Quoted: 201 Post(s)
(Thread Starter)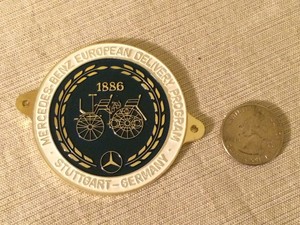 Looks exactly like this picture above.
Currently Active Users Viewing This Thread: 1

(0 members and 1 guests)