BenzWorld Junior Member
Date registered: Oct 2009
Posts: 48
Mentioned: 0 Post(s)
Quoted: 0 Post(s)
(Thread Starter)
1972 250c parts or restore
---
I would like to if there is any interest in this car as parts or a restore car. It is a white 1972 250c 2 door NOPOST with a clear title. It is a I-6 SOHC with auto transmission and is in Fort Worth Texas.
The good,
Drove all the way home about 60 miles when I bought it in January with no problems except it would stall at stop signs, no overheats or loss of oil pressure. I tuned the carbs up a bit, it idles now cold and hot and starts right up. Transmission works shifting 3 gears forward, 1 reverse, working park and parking brake. Comes with a new set of brake pads for front and rear. Just had the shifter bushing replaced. Four BEAUTIFUL Factory hub caps. (creme white) complete interior including Becker Europa AM/FM. leather seats, and all windows with no leaks. AC compressor NOT locked up. Windows and window vents all crank open and closed nice and smooth. Light lenses around the car are nice 95% of the chrome is good and shiny.
The Bad,
Driver seat is ripped by the shoulder, power steering doesn't work, speakers removed and stereo unhooked, WINDSHIELD CRACKED BADLY. Looks like old front end wreck badly repaired, Fenders hood and bumper don't seem to fit right. rust in various places, though floors seem good. Dash wood is old and cracked. Some light bulbs need replacing. Frond passenger caliper is leaking very badly. Previous owner removed passenger front shock absorber and set it in the trunk. I did not know when I bought it, and I don't know why they did it but it drove home like that. CAR WILL RUN AND DRIVE EXCEPT THERE IS NO BRAKE PRESSURE DUE TO LEAK. Until leak is repaired brakes have NO function. This just started today. I think there are multiple vacuum leaks and other missing carb controls, but like I said starts and idles with no problems now. So go figure
PM for more info, TXT or call (Eight One Seven) 891-3792
Make me an offer on parts or the car, I will update this ad, if it changes.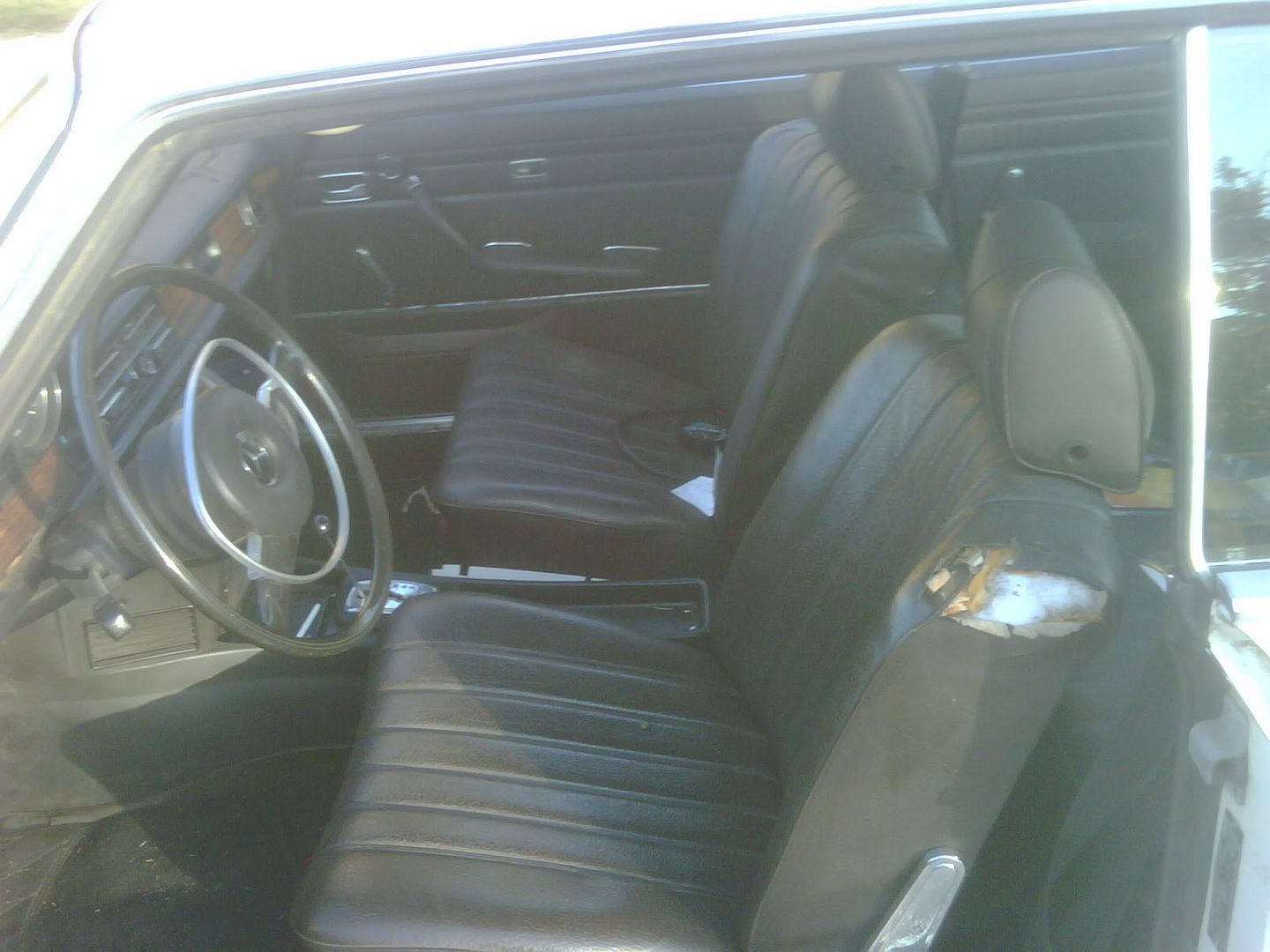 BenzWorld Newbie
Date registered: Apr 2011
Posts: 2
Mentioned: 0 Post(s)
Quoted: 0 Post(s)
how much for the tail lights??
Tom, Memphis Tn
BenzWorld Junior Member
Date registered: Oct 2009
Posts: 48
Mentioned: 0 Post(s)
Quoted: 0 Post(s)
(Thread Starter)
This car is no longer available, but I don't know how to delete the ad.
Currently Active Users Viewing This Thread: 1

(0 members and 1 guests)