BenzWorld Junior Member
Date registered: Jan 2007
Posts: 10
Mentioned: 0 Post(s)
Quoted: 0 Post(s)
(Thread Starter)
FS: 19" Carlsson 1/6 with almost new tires
---
Set of 4 Carlsson 19x8.5 1/6 Wheels
5x112, Et40 (with optional, 4 pcs Carlsson 10mm hubcentirc spacerto bring the offsset lower)
Wrapped with 1 week old 235/35/19 tires.
$1299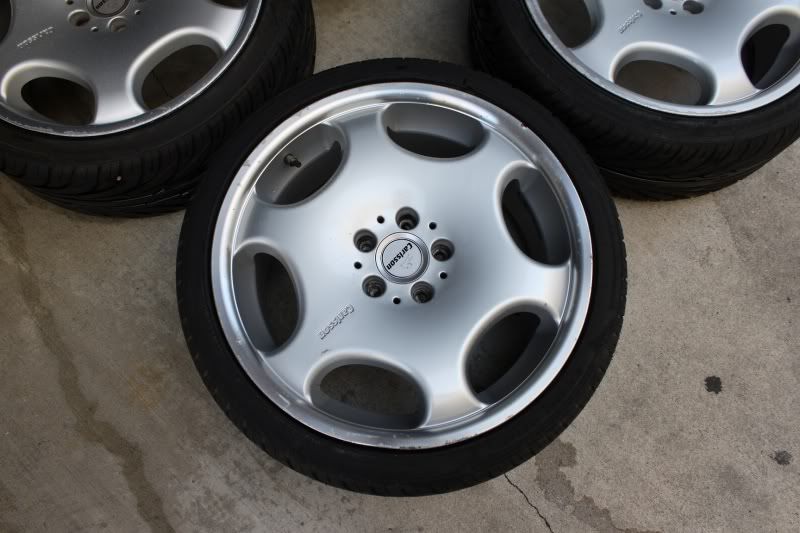 BenzWorld Elite
Date registered: Dec 2008
Vehicle: toys: 92 400e,92 300CE & 93 400SEL with daily driver:12 Civic, Workhorse: 15 F150 & Porsche 944
Location: Albany , NY, USA
Posts: 6,193
Mentioned: 3 Post(s)
Quoted: 1091 Post(s)
whats your location? ny?
---
Carl
Veteran
Albany, NY, USA
92 300ce and others
"Men sleep peacefully in their beds at night
because rough men stand ready
to do violence on their behalf."
Si vis pacem, para bellum
BenzWorld Senior Member
Date registered: Jul 2010
Vehicle: Mercedes 1998 SL600 R129 Mercedes 2001 E430 W210 1997 Renntech E60 Dodge 2006 Power Wagon
Location: Ft Lauderdale Florida
Posts: 428
Mentioned: 0 Post(s)
Quoted: 1 Post(s)
What tires on on them? Are these a stagered set?
BenzWorld Member
Date registered: May 2009
Vehicle: 1995 E420
Location: New Jersey
Posts: 56
Mentioned: 0 Post(s)
Quoted: 0 Post(s)
Rich - these have your name all over them...
BenzWorld Junior Member
Date registered: Nov 2005
Location: Laguna Beach CA
Posts: 31
Mentioned: 0 Post(s)
Quoted: 0 Post(s)
Currently Active Users Viewing This Thread: 1

(0 members and 1 guests)