BenzWorld Junior Member
Date registered: Mar 2009
Posts: 49
Mentioned: 0 Post(s)
Quoted: 0 Post(s)
(Thread Starter)
Driver's 240D, Los Angeles area
---
Hi.
I've had this 240D going on two years, and to no surprise it's been rock solid. I got the car cheap - no registration, missing muffler, bad axle, but I wanted a cheap but reliable beater to sell my Civic for and pocket the difference. I gradually did my detailer thing and cleaned years of oxidation and grime off of the car. The paint isn't perfect, but it's got a unique combo of shine and patina you just don't get to see too often.
The car has been a rock solid commuter and I originally bought it to 'monk around' with, something 'untunable'. No such thing, I'm afraid...I've managed to coax a couple of extra ponies out of the engine by removing the EGR butterfly, replacing the restrictive factory box with a conical filter, and while I was running around with a turbo muffler attached, since achieving the stance and handling I wanted, and the look, and the fact that I'm legal to drive now, I've gone back to just running the factory exhaust back to the stock resonator - effectively reducing weight and increasing flow, and the exhaust burble is just really nice. I've driven fart can cars before and this has a more WRX/240SX type of 'big four' burble.
The factory shift knob has been put aside for a custom made one that drops knob height a few inches. This sounds like a cheese mod, but after trying it, I've had no inclination to go back to the factory knob and have to reach halfway to Canada for third again. Effort is somewhat increased, but so is shift speed and accuracy, and after a few days the difference isn't even noticeable.
The car has had four different spring configurations (stock and 300D springs at various heights) and the -3 coils front/-1 back setup provides an ideal roll center in the front and a really nice stance, which will get a little less 'muscle car' with some lower profile tires in the back but for now I enjoy the stance a lot. The handling is simply magnificent, the skinnier/taller tires in back can be broken loose midcorner in a tractable, useful manner - power oversteer with 2 digit horsepower, folks. This is a great canyon runner and eats corners alive, and while the mildly modded 616 won't be winning you any drag races, it's not the boggy/torque free driving experience you get in, say, a Miata, despite that car's weight advantage. The power is willing and it works - drive it like a classic roadster/Miata and it delivers serious driving satisfaction. I kid you not - simply must be driven to be believed. It's a Bimmer in Benz clothing.
So why am I selling? Well, I'm simply putting the offer out there - if there's a serious taker, then I'm game to use the money for further projects (W123 V8, really); if there isn't then I'll keep my bulletproof, flickable highway gobbler all the same. I'm in no hurry to sell, but I have a 300D on standby so I can at a moment's notice to an interested party.
The cons: missing HVAC (manual) controls, deleted (but kept) AC and cruise components; sunroof needs a motor but the track/cable/electrics are fine. The wood trim isn't great, but the seats are in good condition (MB Tex), manual windows, funky stock radio. Shocks aren't great but as good as the car drives now with aged Monroes, it's going to be even better with a set of HD Bilsteins fitted. While I like the paint the way it is (I've always had a thing for patina), I'm contemplating moving to a non-desert climate, and if I do, I'll have to repaint this car to keep it from rotting, whereas out here it's had missing paint on the hood for years, and with a couple of applications of wax a year the spots haven't grown at all. I've been trained to a decent level of proficiency in auto body; this paint, with an occasional hand rub and regular waxings will look the same in a couple of years, missing paint and all.
The pros - sorted, ready to rock car, new Empi axles out back, new slave, not a lot of W123s out there in any way really qualify as driver's cars; luxury yes, but a 300D with more power isn't necessarily a more fun drive, not by a long shot, really. The weight of that motor just kills the chassis vs. the better balanced 616 setup. Blacked out trim is easily reversible (peels off if you want it to, easy to retouch). Potenzas up front, 195/60/R14s.
If you want to achieve this with a 240D, it's surprisingly easy - but if you want to turn key and drive away with one, without having to do all of the heavy lifting, this car has just a unique vibe to it; I'm in no huge hurry to sell, but I know I could recreate it with another 240D, and as a matter of fact, would trade partially for another 240D as long as it's a manual - paint and interior condition isn't all that important. Other 'driver's cars' of varying stripes would be interesting to contemplate trades for.
1800 or best offer, trade offers welcome as long as it's for a 'worthy' vehicle (I really, really don't want your Kia, sorry.).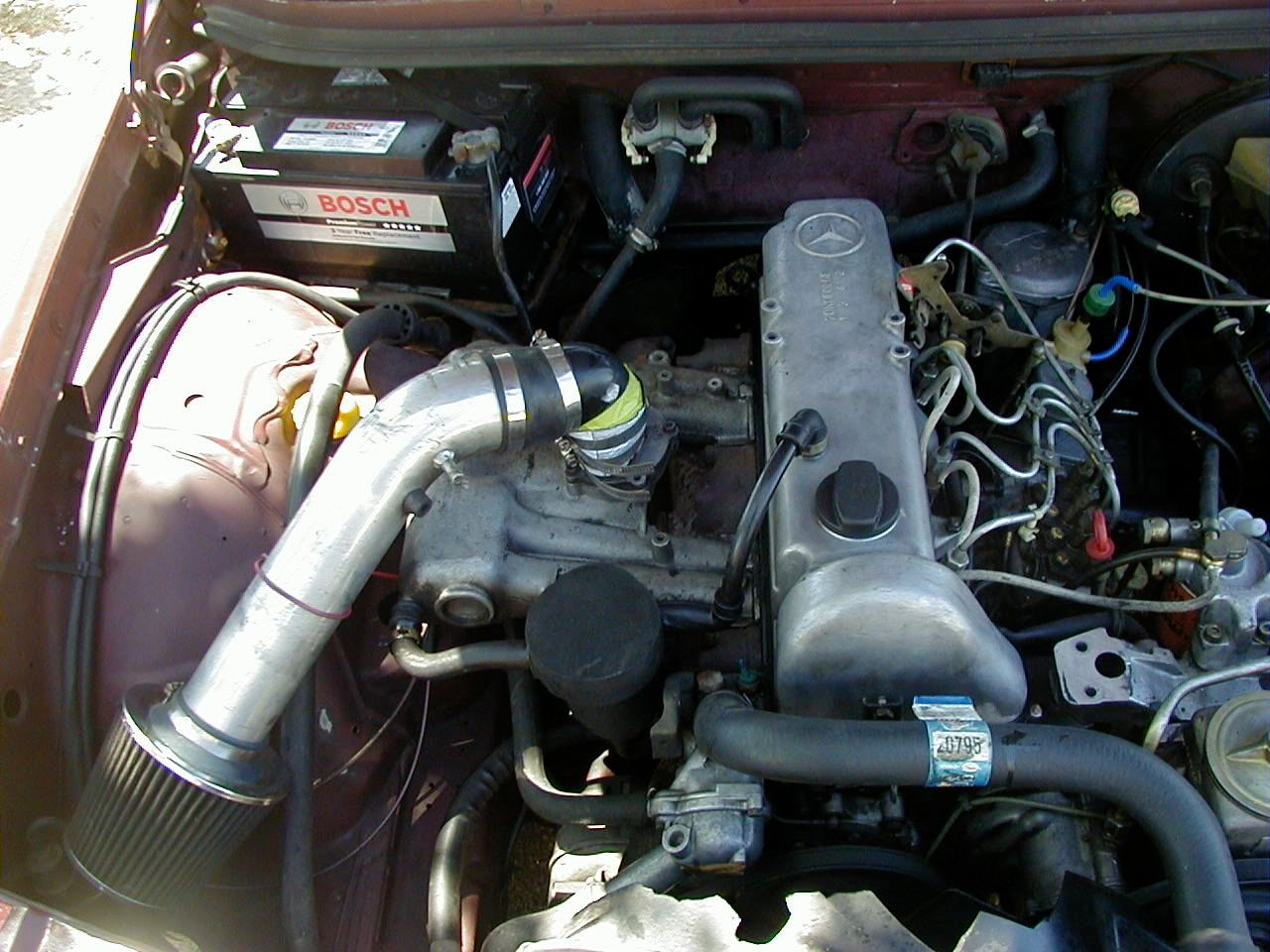 To ensure a timely response, please direct inquiries to crazyirishdan at gmail dot com.
---
80 240D - stick, no sunroof, 'hot rod' black, stripped aluminum hubcap wheels for 'centerline' look, -3 front -1.5 coils rear, 195-60-14 lower profile tires.

Next time my paycheck and half off day collide, it's getting a 300D's turbo, manifolds, oil lines/coolers, radiator, and full exhaust. Bolt on boost!
---
Last edited by CID Vicious; 06-30-2010 at

10:08 PM

.
Currently Active Users Viewing This Thread: 1

(0 members and 1 guests)