BenzWorld Member
Date registered: Aug 2007
Location: North/Central NJ
Posts: 94
Mentioned: 0 Post(s)
Quoted: 0 Post(s)
(Thread Starter)
FS: Mercedes SL600 (with 07 SL65 body, $25k in mods) Warranty till 4/2015 or 101K
---
If anyone is interested let me know... the car is under FULL warranty till 101k miles or 4/2015!!!! The warranty is chrysler service contract - its bumper to bumper.. as good as a new car or cpo warranty it covers anything, just take it to your local benz dealer, everyone on the benz forums uses it. In addition to pics, it has SL63 trunk spoiler, and full 6000K lighting (led parking lights, license plate lights, and low beams) plus new rear tires (fronts only have 600 miles)..
2004 SL600

MILEAGE: 31,8XX
anyways, i am so not 100% on doing this.. I just have a really sweet opportunity to buy a hotel with a few buddies and keep a few rooms for ourselves, and can use this money to do that and make my payment a lot sweeter...
if interested PM me an offer... With warranty + tires + more mods.. I still can do the car for under $50k.. ($48,900 with warranty, 45,800 without)
The car without warranty and stock at manheim is going for $37k with these miles.. (plus fees, transport, and fixing the car up).. this car is a creampuff AZ car wiht a clean carfax/autocheck.
I don't know if I will even do this.. because its a once in a lifetime car.. its basically an SL65.. if you put ecu/tcu tune for $1699 the car is as good as an 07 SL65, and looks like 1... for a fraction of the cost.
Just making money and getting a couple free rooms in a nice place (and I love the beach) - makes me even ponder this so let me know via pm or respond here that you are interested.
As far as mods go:
MODS:
20x9 Maya MRS Powder Coated Matte Black Centers/Gloss Black Lips
20x11 Maya MRS Powder Coated Matte Black Centers/Gloss Black Lips
Vredestein 255/30/20 (front) 295/25/20(rear) but these are like 305s on other brand tires
Renntech ELM
Floored Fab Custom exhaust (Jet Hot coated black)
BMC Air Filters
All the fins and door handle pieces paint matched to the car
07 SL65 Bumpers
07 SL65 3 fin grill
07 SL65 LED Tails
07 SL65 Front
07 SL65 3rd break light
Painted headlights similar to how it is on an SLR
Matte black custom paint scheme
1 thing to note ***The exhaust on the car sounds insane!!! Chris did an amazing job*** Sounds very exotic since were talking 12 cylinders
BTW:
$1699 and you gain 85+whp and 150 tq to the wheels!
thats not including a TCU tune to free torque management and raise redline.
SL/CL600s with ECU/TCU software ONLY run low 11s with 1.7 60' on 20s with summer tires
upgrade intercoolers and add full exhaust (which I already have ) and car will be in 10s..check dragtimes out to see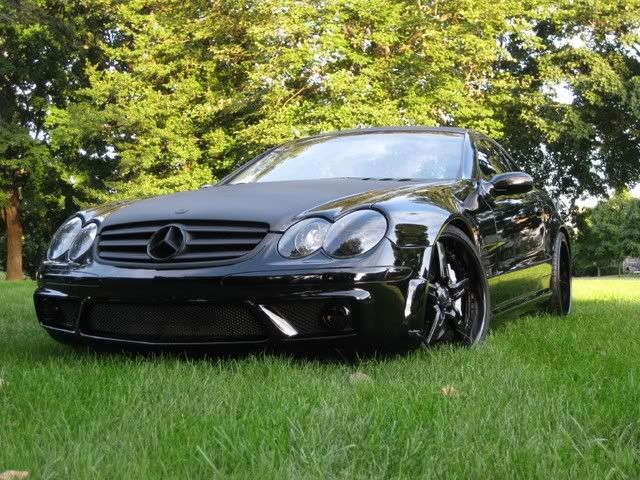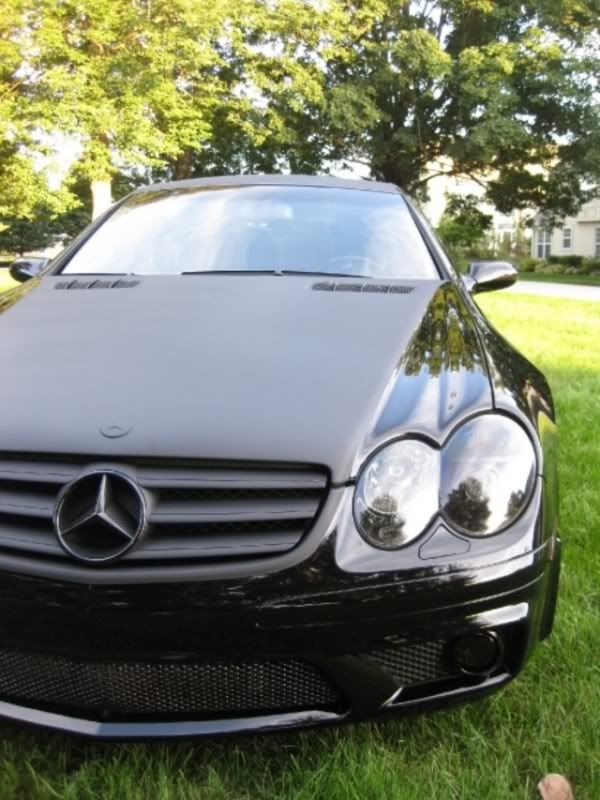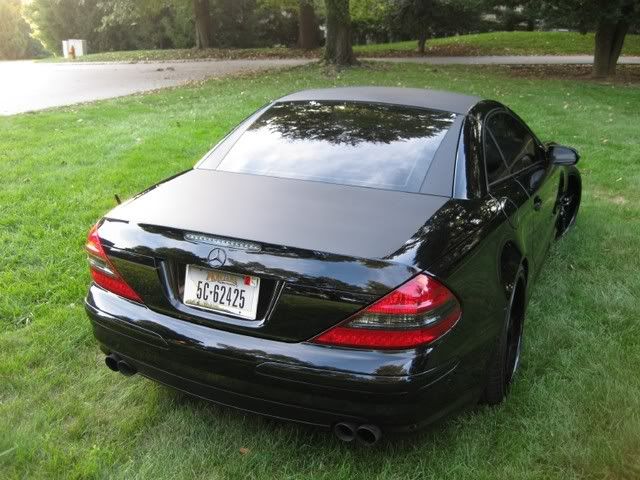 BenzWorld Member
Date registered: Aug 2007
Location: North/Central NJ
Posts: 94
Mentioned: 0 Post(s)
Quoted: 0 Post(s)
(Thread Starter)
Couple interior shots.. and to notice that there isn't the usual wear on the driver bolster.. mint sides, mint interior.. nothing to note.
I am also going to try and get a vid of the exhaust.. (basically sounds a notch sweeter than the SL65 stock). No drone whatsoever, its actually quiet.. hard to make a turbo car real loud without straight pipes. You can't hear it inside with the radio remotely on. Sounds intoxicating outside the car!
I have a few people interested. My buddies are really pressing me to partner up with them for this hotel, and I am looking to move the car now.
$46,000 WITH WARRANTY.
I am going to ebay it if I don't find someone (it will sell for at least that, a non sport package sl600 same miles with NO WARRANTY sold for $42,888 last week).. just sending a personal message to everyone who inquired about the car and giving someone a great deal.
Mercedes-Benz : SL-Class: eBay Motors (item 150438714583 end time May-08-10 07:37:04 PDT)
That is the car... how hideous without the sport package? Let alone $20k in mods like mine has
Warranty till 4/2015 or 101k so it has another $5k in goodies (new wheels, sl63 spoiler, all the lighting, etc)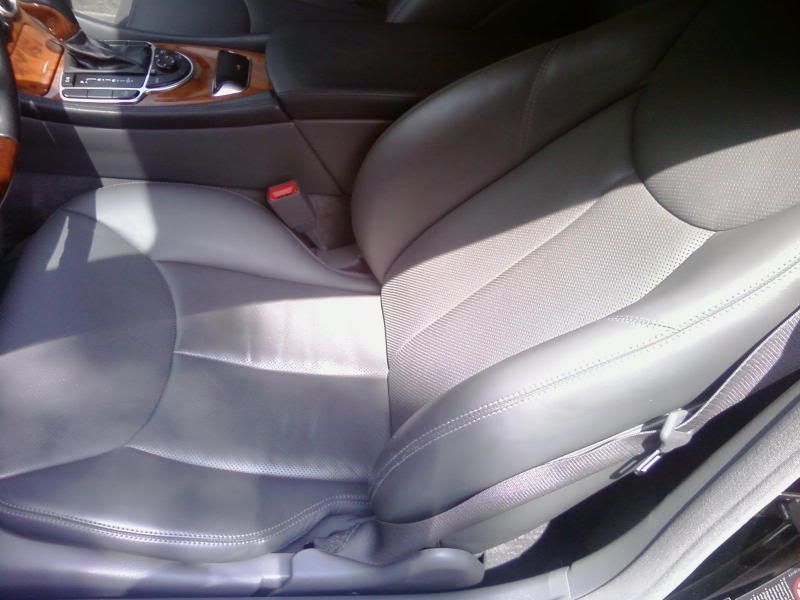 BenzWorld Member
Date registered: Aug 2007
Location: North/Central NJ
Posts: 94
Mentioned: 0 Post(s)
Quoted: 0 Post(s)
(Thread Starter)
On the BAY... that big auction site


Item number:

280508158957
BenzWorld Junior Member
Date registered: Mar 2008
Vehicle: 2006 CLS 500 sport pkg
Location: TEXAS
Posts: 30
Mentioned: 0 Post(s)
Quoted: 0 Post(s)
BenzWorld Member
Date registered: Aug 2007
Location: North/Central NJ
Posts: 94
Mentioned: 0 Post(s)
Quoted: 0 Post(s)
(Thread Starter)
thank you!


Update:

Car has 8 days left on auction and is at $38,100 currently as I write this. With over 45 watchers! :y
BenzWorld Member
Date registered: Aug 2007
Location: North/Central NJ
Posts: 94
Mentioned: 0 Post(s)
Quoted: 0 Post(s)
(Thread Starter)
slightly creased
---
Ross
OzBenz
beware of fundamentalists
Currently Active Users Viewing This Thread: 1

(0 members and 1 guests)