BenzWorld Newbie
Date registered: Mar 2010
Posts: 2
Mentioned: 0 Post(s)
Quoted: 0 Post(s)
(Thread Starter)
FS. 95 c280 5 speed
---
first time post, I was cruising the forums looking for info on my next project and thought I should unload my current one first.
The good, it is a 95 c280 with a 5 speed swap.
The bad, it has 209,000 miles and is starting to show it's age.
I don't have any current pictures but can try to get some uploaded. The car does run and drive and has been my daily driver for a couple of years.
I plan on putting it on the ebay in 2 or 3 weeks (found a 5 year old lein on the title from mbusa credit that never got cleared off. They are sending the papers to clear this up, in a week or two)
The 5 speed parts are from a 190e 2.6 with a dual mass flywheel.
For the right price I will include another complete 5 speed tranny with solid flywheel and sprung pressure plate. the solid flywheel is set up with the 62-2 segment wheel for what I believe to be a early me setup (not sure.) also includes shifter and pedal assembly.
I also have a 3.2 short block that had a chain break. The front cover has a hole in it. I removed 2 pistons to check the rods and crank and they seem ok. I had planned on using the crank in the 2.8 block but never got around to it.
As you can imagine, it took some time and "some" money to gather all these parts.
The car has some upgrades, stainless lines, clear corners, tinted windows and tail lights. lowered, C36 front sway bar. Custom stereo in the trunk with a 10 inch square sub and 900 watt amp.
Hopefully anybody that is interested will understand that at 209k there are some things on this car that are not prefect (head gasket, harness, etc..) There is some rust spots on the doors.
This could be a project in it's self or a running parts car with a clean title.
As stated above I would like to give someone who may be searching for these parts in a place like this first stab before the ebay gets involved.
The car is located in Minnesota
post or pm with questions I will try to check back and answer.
edit... for $2000 you can have it all.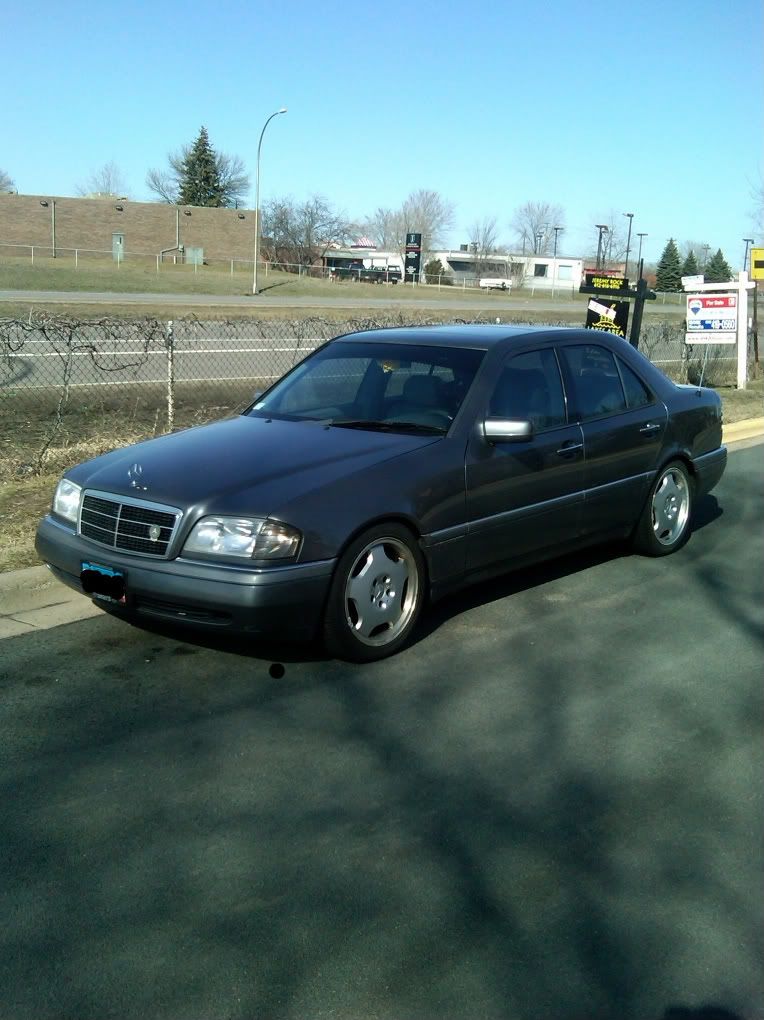 Adam T.
---
Last edited by Tavs; 03-21-2010 at

02:14 PM

. Reason: updated with price and a picture
BenzWorld Junior Member
Date registered: Sep 2009
Vehicle: 1999 C280
Location: Charlotte, NC
Posts: 18
Mentioned: 0 Post(s)
Quoted: 0 Post(s)
could you put up some more pictures?
im somewhat interested, recently totaled my 99 c280, and i'm pretty broke at this point but i at project car that can still be a daily driver is basically what im interested in at this point.
BenzWorld Newbie
Date registered: Mar 2010
Posts: 2
Mentioned: 0 Post(s)
Quoted: 0 Post(s)
(Thread Starter)
I will try and get a couple of pictures up by this weekend. It's dark outside now and I don't have any current ones at this time.

Thanks for the interest

Adam T.
Currently Active Users Viewing This Thread: 1

(0 members and 1 guests)