BenzWorld Junior Member
Date registered: Dec 2009
Posts: 5
Mentioned: 0 Post(s)
Quoted: 0 Post(s)
(Thread Starter)
FS: 1984 Euro 280SL - Rare 5 Speed - New Pics That Do It Justice!
---
Showroom Condition 1984 280SL - 5 Speed

- 1984 Euro Mercedes 107 280 SL roadster

- Imported from Germany (Euro Vin # WDB10704210016997)

- Mint/Showroom condition with no rust

- We have owned this car for 15 years

- 111,000 miles

- 5 speed transmission, double overhead camshaft, 6 cylinder engine producing 185 horse power.

- The car is original, accident free driven in the summer months only and always garage kept

- Car is Silver Blue metallic with impeccable black leather interior which is in excellent condition, has a brand new German canvas soft top with black interior (both top removal tools are included). The soft top has not even been folded down yet and hence the rear windows do not have any fold lines on them.

- All five wheels have been recently bead blasted and painted with original factory colour paint.

- The vehicle has five brand new Michelin "Hydro-edge" tires with zero miles on them.

- The hard top is in mint condition and has hardly ever been used as well as the original tool kit, and the emergency triangles.

- The exterior and interior of the vehicle is original and in mint condition as is the dashboard. The burled wood in the car is in excellent condition.

- Mechanically the car is in excellent condition and has been serviced regularly.

- Air conditioner, electric antenna, power windows all operate in perfect fashion

- $14,000 USD OBO

Someone will get an amazing vehicle!

- Car located in Victoria, BC
- email for more pics
---
Last edited by maxwellcafe; 12-03-2009 at

11:36 PM

. Reason: New Pics
BenzWorld Member
Beautiful car. Good luck with the sale.
---
1984 w126 Euro 500SEC Blue Bird!
1987 w126 300SDL (Sold) 1982 w126 300SD (Sold)
-Curtis Berger
BenzWorld Elite
Date registered: Nov 2002
Vehicle: '82 500sec euro, '95 Ford F150
Location: West Palm Beach, Fl
Posts: 1,391
Mentioned: 0 Post(s)
Quoted: 105 Post(s)
BenzWorld Junior Member
Date registered: Dec 2009
Posts: 5
Mentioned: 0 Post(s)
Quoted: 0 Post(s)
(Thread Starter)
Just added new pictures of this car that really show how amazing it is!
BenzWorld Veteran
Date registered: Apr 2009
Vehicle: Current: 1987 560 SEC US, former factory trained MB tech 10 years, owner of 14 others.
Location: Spokane, WA.
Posts: 723
Mentioned: 0 Post(s)
Quoted: 0 Post(s)
A bullet-proof engine as well! Excellent condition, and good luck!
BenzWorld Elite
Date registered: Sep 2007
Vehicle: 1978 280ce euro found dead on Ebay
Location: Northern Virginia
Posts: 1,805
Mentioned: 0 Post(s)
Quoted: 0 Post(s)
That's a 185 hp M110 engine in that car it outperformed the USA V8 450/500sl and offered better handing due to it's lighter weight awesume car only which I had the funds to buy it.
BenzWorld Elite
Date registered: Jul 2006
Vehicle: 96 C36, 87 Turbo'd 190E 2.3-16, 86 SC'd 190E 2.3-16, Brabus'd C32
Location: MASS
Posts: 1,626
Mentioned: 0 Post(s)
Quoted: 0 Post(s)
beautiful bump
---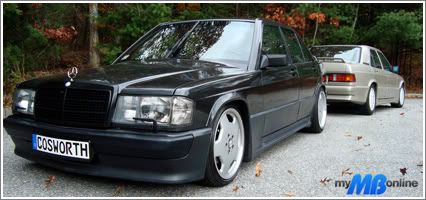 87 190E 2.3-16 Cosworth
- Track car-Getrag, short shift, delrin, 95a poly, Euro'd, 2 tone Recaros, custom suspension, EFI w/ Megasquirt, cast iron headers, Garrett turbo...
86 190E 2.3-16 Cossie
-Old beater Getrag, slammed on BBS' Mosselman ECU, Eaton M62 SC
03 C32 ///AMG
- Daily- designo edition, command, fulll Brabus CF interior, CF lips mirrors spoilers ect, and enough engine mods to destroy 911's
BenzWorld Member
Date registered: Mar 2008
Posts: 304
Mentioned: 0 Post(s)
Quoted: 0 Post(s)
Just had to say.......what a truly exceptional Mercedes!
If I didn't already own a cab, I'd snatch yours up in a second.
So, curious?.....sold yet?

Worth every penny!
---
David

1970 250
1970 280 SL
1994 C 220
1991 350 SDL
1995 E320 Cabriolet
Currently Active Users Viewing This Thread: 1

(0 members and 1 guests)