BenzWorld Member
Date registered: Oct 2009
Posts: 86
Mentioned: 0 Post(s)
Quoted: 0 Post(s)
(Thread Starter)
Looking for C36 Rims Black Replica !!!!!!
---
hi guys, well i'm only asking if anyone knows a compagny that makes C36 wheel replica, but Black and Deep dish if possible, im looking for set of 18x9 or 18x8 the same model then the C36 AMG bug black with a chrome lip. I saw a set of 4 at EOM but i can't find it back
BenzWorld Elite
Date registered: Jul 2006
Vehicle: 96 C36, 87 Turbo'd 190E 2.3-16, 86 SC'd 190E 2.3-16, Brabus'd C32
Location: MASS
Posts: 1,626
Mentioned: 0 Post(s)
Quoted: 0 Post(s)
they are called AMG monoblock aero IIs. You can find replicas on ebay. Then just paint them black. Not a fan of black rims though
---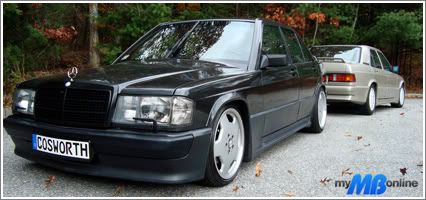 87 190E 2.3-16 Cosworth
- Track car-Getrag, short shift, delrin, 95a poly, Euro'd, 2 tone Recaros, custom suspension, EFI w/ Megasquirt, cast iron headers, Garrett turbo...
86 190E 2.3-16 Cossie
-Old beater Getrag, slammed on BBS' Mosselman ECU, Eaton M62 SC
03 C32 ///AMG
- Daily- designo edition, command, fulll Brabus CF interior, CF lips mirrors spoilers ect, and enough engine mods to destroy 911's
Currently Active Users Viewing This Thread: 1

(0 members and 1 guests)