BenzWorld Newbie
Date registered: Sep 2009
Posts: 3
Mentioned: 0 Post(s)
Quoted: 0 Post(s)
(Thread Starter)
Brabus Wheels Monoblock IV Rims for Sale
---
I have a set of Brabus Monoblock IV One-Piece rims for sale on Ebay
BenzWorld Senior Member
Date registered: Oct 2008
Vehicle: 98c230 & 98c43
Location: California
Posts: 511
Mentioned: 0 Post(s)
Quoted: 0 Post(s)
And so we magically know exactly the link to which you are selling these monos. :P
BenzWorld Newbie
Date registered: Sep 2009
Posts: 3
Mentioned: 0 Post(s)
Quoted: 0 Post(s)
(Thread Starter)
BenzWorld Elite
Date registered: Jul 2006
Vehicle: 96 C36, 87 Turbo'd 190E 2.3-16, 86 SC'd 190E 2.3-16, Brabus'd C32
Location: MASS
Posts: 1,626
Mentioned: 0 Post(s)
Quoted: 0 Post(s)
Damn I wish those were staggered. Interested in trading for my 18 staggered authentic Brabus Vs?
---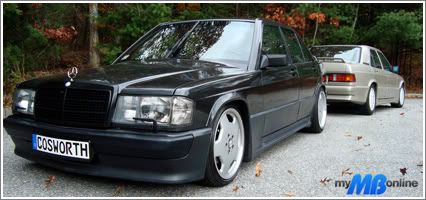 87 190E 2.3-16 Cosworth
- Track car-Getrag, short shift, delrin, 95a poly, Euro'd, 2 tone Recaros, custom suspension, EFI w/ Megasquirt, cast iron headers, Garrett turbo...
86 190E 2.3-16 Cossie
-Old beater Getrag, slammed on BBS' Mosselman ECU, Eaton M62 SC
03 C32 ///AMG
- Daily- designo edition, command, fulll Brabus CF interior, CF lips mirrors spoilers ect, and enough engine mods to destroy 911's
BenzWorld Newbie
Date registered: May 2010
Posts: 2
Mentioned: 0 Post(s)
Quoted: 0 Post(s)
Brabus 19 inch monoblock V two piece.
---
how's it going? i'm looking to sell a set of authentic brabus monoblock v wheels. They're in excellent condition. 19x8.5 all the way around. have Pirelli tires with a lot of tread left. front tires are 235/35/19 and rears are 260/30/19 for a staggered look. Paid a good amount for them but I am willing to negotiate and get them out of my garage. I have more pics if you're interested.
Currently Active Users Viewing This Thread: 1

(0 members and 1 guests)