BenzWorld Newbie
Date registered: Aug 2009
Posts: 2
Mentioned: 0 Post(s)
Quoted: 0 Post(s)
(Thread Starter)
2001 500 SLR Towhook Cover
---
This is a part my wife bought for a car she no longer has. She doesnt remember which side it was for...maybe you can tell from the pictures or part #( HWA 129 885 01 26). IM not sure what years this fits other than 2001. She says she paid 200.00+ for it but will accept any reasonable offer...PM or can be reached at 903-277-9087...thanks
BenzWorld Newbie
Date registered: Aug 2009
Posts: 2
Mentioned: 0 Post(s)
Quoted: 0 Post(s)
(Thread Starter)
pictures
---
This is a part my wife bought for a car she no longer has. She doesnt remember which side it was for...maybe you can tell from the pictures or part #( HWA 129 885 01 26). IM not sure what years this fits other than 2001. She says she paid 200.00+ for it but will accept any reasonable offer...PM or can be reached at 903-277-9087...thanks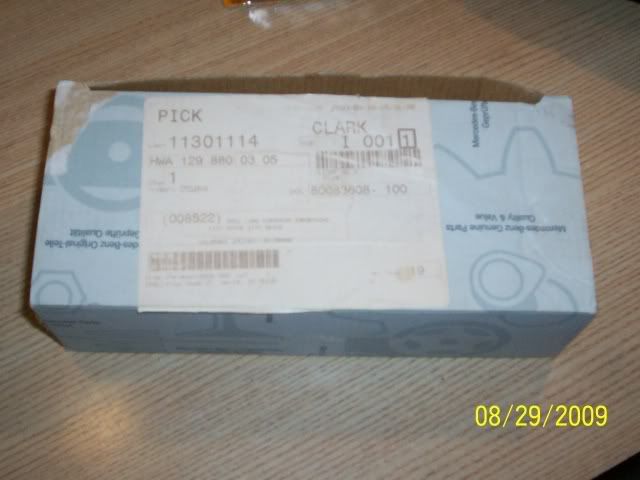 BenzWorld Member
Date registered: Oct 2007
Vehicle: 1999 SL500
Location: Mesa, AZ
Posts: 89
Mentioned: 0 Post(s)
Quoted: 1 Post(s)
Quote:
This is a part my wife bought for a car she no longer has. She doesnt remember which side it was for...maybe you can tell from the pictures or part #( HWA 129 885 01 26). IM not sure what years this fits other than 2001. She says she paid 200.00+ for it but will accept any reasonable offer...PM or can be reached at 903-277-9087...thanks
I would suggest postin this in the R129 Forum too.
This is the left/driver's side tow hook cover that will fit the AMG bumper 1999 - 2002 for all SL500 & SL600. They are a lot more than $200 from the dealer now. Not trying to hijack the thread but I have the passneger/right side in used condition if anyone is looking for both sides.
Currently Active Users Viewing This Thread: 1

(0 members and 1 guests)