BenzWorld Newbie
Date registered: Jan 2009
Posts: 2
Mentioned: 0 Post(s)
Quoted: 0 Post(s)
(Thread Starter)
1965 Mercedes
---
There is a 1965 Mercedes sitting in my daughter's garage - I think it's a 250S (?). It's been sitting there for at least 30 years & it's in the condition you'd expect for a car that's been sitting inside all that time. Only problem is that the engine seized up (I had nothing to do with it). The head's been redone and the car is solid except for the engine. Wave some cash in my daughter's face & take it away. It's in Pittsburgh.
BenzWorld Elite
Date registered: Jul 2006
Vehicle: 96 C36, 87 Turbo'd 190E 2.3-16, 86 SC'd 190E 2.3-16, Brabus'd C32
Location: MASS
Posts: 1,626
Mentioned: 0 Post(s)
Quoted: 0 Post(s)
god damn id love to pick it up and drop it on some bags
what do you think is the ballpark
---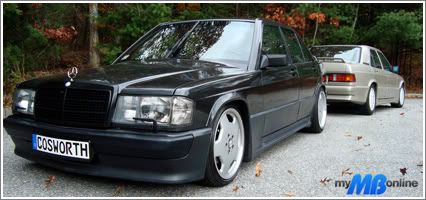 87 190E 2.3-16 Cosworth
- Track car-Getrag, short shift, delrin, 95a poly, Euro'd, 2 tone Recaros, custom suspension, EFI w/ Megasquirt, cast iron headers, Garrett turbo...
86 190E 2.3-16 Cossie
-Old beater Getrag, slammed on BBS' Mosselman ECU, Eaton M62 SC
03 C32 ///AMG
- Daily- designo edition, command, fulll Brabus CF interior, CF lips mirrors spoilers ect, and enough engine mods to destroy 911's
BenzWorld Junior Member
Date registered: Apr 2008
Vehicle: 1990 300SL, 2001SLK320
Location: PA
Posts: 29
Mentioned: 0 Post(s)
Quoted: 0 Post(s)
What part of Pittsburgh is vehicle located?
BenzWorld Newbie
Date registered: Jan 2009
Posts: 2
Mentioned: 0 Post(s)
Quoted: 0 Post(s)
(Thread Starter)
sorry for not getting back too quickly - trying to get some pictures to upload. can't imagine it's going to be too expensive what with the block being frozen up like it is.....
Currently Active Users Viewing This Thread: 1

(0 members and 1 guests)