BenzWorld Member
Date registered: Dec 2006
Vehicle: 1998 slk230
Location: Tallahassee FL
Posts: 88
Mentioned: 0 Post(s)
Quoted: 0 Post(s)
Coverking cover for sale 98 slk230
---
I have a Coverking Stormproof MD2383 custom cover for my slk230, blue. It's been used by me only very rarely but was used before I owned it seems pretty regular. The Coverking website lists it for $322 but I found it for about $260 new. I'm asking $150 plus shipping cost (US only), actual shipping charge by UPS.
It's very clean on the outside, the inside that contacts the car is dirty but it's a car cover so that's expected. There are a few very small cuts, about 1/4" in a few spots. I also have a canvas bag that it was stored in that I'll send also.
If interested I can send pics. Please send email to
red1lynnmarie@yahoo.com
Thanks!
BenzWorld Elite
Date registered: Oct 2008
Vehicle: PROUD OWNER! 2002 slk32 AMG
Location: murfreesboro tn
Posts: 1,505
Mentioned: 0 Post(s)
Quoted: 0 Post(s)
i have a set of slk32 amg fog lights. dealer price is 174$ each ill take 150$ for both shipped. oem intercooler for slk32 amg dealer cost is 900$ ill take 500$ shipped. i have a slk32 amg front bumper thats damaged can be fiberglassed repaired 125$ plus shipping. oem roll hoops 50$ shipped, amg steering wheel no airbag or mount cages. amg r170 steering wheel no mounting cages or airbag charcoal color use your guts to make a nice wheel 100$ shipped, oem tailights 75$ shipped. audio 10 in dash cd player and stereo. plug and play 150$ feel free to make an offer on any of these parts im selling my car and no longer need them
---
Last edited by 32krazy!; 07-22-2012 at

07:00 PM

.
BenzWorld Elite
Date registered: Aug 2002
Vehicle: SLK320, MKV Jetta TDI, Mini Cooper S, Lincoln Mark LT
Location: Arizona
Posts: 1,712
Mentioned: 0 Post(s)
Quoted: 1 Post(s)
FS: OEM AMG SLK32 Sport body parts
---
I have a 2004 SLK32 front bumper cover with the mesh grills and fog lights. I also have the stock grill with emblem and stock headlights (non xenon). I also have the rear bumper cover and side skirts and was hoping to sell the whole set. I also have the OEM trunk lid spoiler as well.
---
I assume no liability for any incidental, consequential or other liability from the use of this information. All risks and damages, incidental or otherwise, arising from the use or misuse of the information contained herein are entirely the responsibility of the user. Although careful precaution has been taken in the preparation of this information, I assume no responsibility for omissions or errors.

---
Last edited by E-Klasse; 07-29-2012 at

12:20 AM

.
BenzWorld Newbie
Date registered: Jul 2012
Posts: 2
Mentioned: 0 Post(s)
Quoted: 0 Post(s)
Selling 04 SLK 230 Kompressor - $12,500 - 77K miles
---
Hey guys,
I am selling my 04 SLK 230 Kompressor. It has driven like a dream and is in amazing shape. Unfortunately, I am leaving the country soon so I am selling it before I go.
Without reposting my whole Ebay ad here, I will say that save one minor defect with the ignition column, this car is one of the kompressors that was made to last (they were somewhat hit or miss in the early 00's). It picks up just like it did when I got it and has given me very little trouble over the past 3.5 years. Save a couple repairs in the last few months, I have had to do little other than brake pads, tires, oil changes, and regular maintenance.
Check out the ebay link if you are interested, contact me by PM if you want to do something privately off of Ebay.
Mercedes-Benz : SLK-Class 230 Kompressor in Mercedes-Benz | eBay Motors
-Erik
BenzWorld Member
Date registered: Feb 2010
Vehicle: '16 GMC Canyon, '09 C300,'66 Mustang cnvrt-High Cntry Spl,'01 Mustng Cobr, Elec.golf car-35 MPH!
Location: Loveland, CO / Sun Lakes, AZ
Posts: 115
Mentioned: 0 Post(s)
Quoted: 5 Post(s)
SLK COVER FOR SALE
---
R170 - SLK - California car cover for sale.

Used inside garage for 1 summer. No rips, tears, or spots. Soft lining inside to prevent scratches.

Intended for inside use ONLY.

Priced $75 - cost around $200 new

Prefer somebody in or around Colorado, and I can deliver to that area. I can ship also, but cover weighs 12-13 lbs, probably won't be cheap to ship.

970-613- one-four-nine-0.

Thanks
---
If confusion is a destination . . . . we have arrived.
BenzWorld Member
Up for sale is a used ORIGINAL Mercedes Benz CD Changer (6 disc). asking $200 OBO
Comes With Cartridge holder
Model: MC3198
Part #: A 002 820 7989
Part #: A002-820-79-89 or 0028207989
002-820-79-89-81 or 002820798981
Compatible with: C / S / SL / E / CLK / SLK-Class 1999-2005
Also have an OEM wind-screen off my 01 slk320. $100 Shipped anywhere in the US
SOLD!!!
---
Last edited by Killahkal88; 09-15-2012 at

11:51 PM

. Reason: SOLD
BenzWorld Newbie
Date registered: Jun 2009
Posts: 3
Mentioned: 0 Post(s)
Quoted: 0 Post(s)
looking to buy silver front bumper silver pass side fender and pass headlight
BenzWorld Member
Date registered: Feb 2008
Vehicle: 2003 SLK32
Location: Tampa, FL
Posts: 323
Mentioned: 0 Post(s)
Quoted: 2 Post(s)
Lots of SLK & SLK32 parts for sale
---
OK, I'm cleaning out the shop and I have the following for sale. I will put them on the forum first for a bit and then they go to sleazebay...

1. Factory windscreens (2), one has a tiny hole in fabric, the other is a bit wrinkled from being in a confined space for a while, both are in fine shape and very useable. This is the facelift style (2000-2004). $50 ea.

2. SLK32 shocks and springs in perfect condition, about 18,000 miles, all hardware and rubber included. These came off my '03 when I obtained Nürburgring suspension parts from Germany. As I recall the street price for all the parts is around $700-800. $300

3. SLK hood, 99 SLK230, in what I believe is Bahama Blue. Hood is in very good condition but has a few scratches and blemishes (no dents) from being in storage/moved around for a number of years. I had originally picked this up for a project that I will never get around to and it's just taking up space. I don't really want to ship this thing. $300

4. SLK32 front bumper without headlight washers, professionally prepped and ready for paint. This bumper cover is beautifully prepped and is perfect except that the two foam core tabs are missing on the back side. This does not affect the function or aesthetics of the bumber, and if I did not tell you that you would not know. But I am honest and straight up, so it may be a consideration for some members. It is perfect for a conversion project if you have a non AMG or pre-facelift car. I guarantee you will not be disappointed. I have $500 in this cover with prep and will let it go for $300 to a forum member. That said I really prefer to not have to ship this thing. I shipped one once before and it took me all day to build a UPS-proof shipping container.

5. AMG hood emblem, new and uninstalled, chrome outer ring and machined aluminum insert...not the crappy plastic/resin one. These are generally on sleazebay for around $35 from overseas. They are pretty cool if you nix the outer ring and just use the machined AMG insert, which fits nicely in the formed recess of the emblem circle of the hood. A little smaller than the stock MB star. $20

6. SLK32 seat base in good condition. I orginally picked up a spare drivers seat from a wrecked 32, but the frame was tweaked so I parted it out. I needed a part off the back rest, so here's a rare opportunity to get a base if you have a tear or burn or bad defect. This base is in very good shape, but it is not pristine. It has a couple of minor "dull spots" on the leather, but they are almost imperceptible in my opinion. If you have a noticeable defect, here's a great chance to correct it. Pulling the seat base is easy and does not require any upholstering skills, just basic mechanical skills and about 20 minutes. $50

7. SOLD. Factory auto-dimming driver outside mirror for PRE-facelift SLK (98-99). I mistakenly bought this a while back as a replacement for mine; the plugs are different from the later facelift version. This is new and never installed, street price is around $185 I believe. $100 SOLD

8. SOLD. Schatz auto shift knob chrome and birdseye for SLK32. Also fits other models. This is a quality accessory that goes for around $130 on the street. $75 SOLD.

9. H&R wheel spacers for MB, 3 MM, hard anodized black, new and never mounted. OK these are not available from H&R except in silver, so I had to pay $50 to get them anodized black. I thought I would need them on the back when I went to Brembos but I only needed them on the front. If you are a stickler for detail and you have black rims, these are what you need. $50

10. SLK32 rear differential from completely stock 32, obtained from wrecked 32 with about 60,000 miles. This one is in perfect shape -- gears show no wear and pin is tight. Also good for Crossfire SRT6 replacement. $350

11. SOLD. Custom built headers by VRP (Vadim), Jet-coated ceramic finish, one of about a dozen that were built several years ago. I never got around to putting these on my 32 and I doubt I ever will, so here's your chance to pick up a bargain. These are a direct bolt in replacement for your stock manifolds. I paid $1100 for these and will include a set of new OEM exhaust gaskets. $800 SOLD

I have attached the maximum allowable number of files, so I will add a "part 2" post for the remainder. The prices listed are firm for most and pretty much what I expect for the rest, plus shipping. PM me if interested or email me at craigkovach@gmail.

Craig
---
Last edited by CKovach; 10-17-2012 at

06:21 PM

. Reason: Sold an item
BenzWorld Member
Date registered: Feb 2008
Vehicle: 2003 SLK32
Location: Tampa, FL
Posts: 323
Mentioned: 0 Post(s)
Quoted: 2 Post(s)
Lots of SLK & SLK32 parts for sale, Part 2
---
OK here are the rest of the pics...

Craig
BenzWorld Extremist
Date registered: Jan 2007
Vehicle: 2001 SL500
Location: Clarksburg NJ
Posts: 1,125
Mentioned: 0 Post(s)
Quoted: 3 Post(s)
Slk carbon fiber steering wheel. $250 shipped or best offer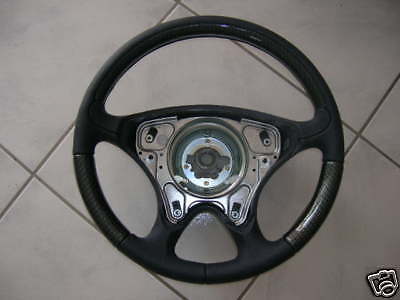 ---
Last edited by patfarrell; 09-01-2012 at

10:27 PM

.
Currently Active Users Viewing This Thread: 1

(0 members and 1 guests)