BenzWorld Newbie
Date registered: Jun 2008
Posts: 2
Mentioned: 0 Post(s)
Quoted: 0 Post(s)
(Thread Starter)
FS: MA 2002 Mercedes C32 AMG
---
Hey guys
Have my C32 AMG up for sale. I've been trying to sell locally, but going into winter this is a task. I need an AWD vehicle for the traveling that I now do, so I have to sell.
Currently on Ebay, Buy Now for $15,200, Reserve $14,900.
eBay Motors: Mercedes-Benz : C-Class (item 280279993688 end time Nov-01-08 09:27:58 PDT)
The Car has 71,350 miles.
BenzWorld Elite
Date registered: Jul 2006
Vehicle: 96 C36, 87 Turbo'd 190E 2.3-16, 86 SC'd 190E 2.3-16, Brabus'd C32
Location: MASS
Posts: 1,626
Mentioned: 0 Post(s)
Quoted: 0 Post(s)
if only i saw this a few weeks ago. lemme know if its still for sale after winter
---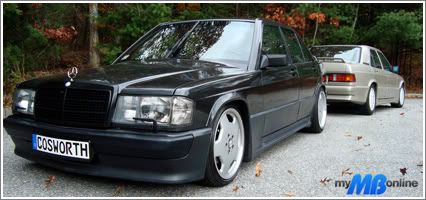 87 190E 2.3-16 Cosworth
- Track car-Getrag, short shift, delrin, 95a poly, Euro'd, 2 tone Recaros, custom suspension, EFI w/ Megasquirt, cast iron headers, Garrett turbo...
86 190E 2.3-16 Cossie
-Old beater Getrag, slammed on BBS' Mosselman ECU, Eaton M62 SC
03 C32 ///AMG
- Daily- designo edition, command, fulll Brabus CF interior, CF lips mirrors spoilers ect, and enough engine mods to destroy 911's
Currently Active Users Viewing This Thread: 1

(0 members and 1 guests)