BenzWorld Elite
Date registered: Jul 2008
Posts: 4,807
Mentioned: 4 Post(s)
Quoted: 320 Post(s)
(Thread Starter)
WTB 78 280ce fuel injector lines...
---
My dad snapped off one of the ends on the first injector line. I am sure I will have to buy a whole set now, seeing if anyone has any laying around. pm me if you have any.
BenzWorld Elite
Date registered: Oct 2006
Vehicle: 1979 280CE
Location: Jacksonville, Florida
Posts: 6,116
Mentioned: 0 Post(s)
Quoted: 2 Post(s)
you can buy them from the dealer, a set will probably be less than 30 or 40 bucks.
---
'79 280CE with 226,000 miles
'76 240D 4 speed with 190,000
'85 300D Turbo with 266,000 miles
GONE but not forgotten
'76 300D with 195,300 miles
"83 300D with 174,000 miles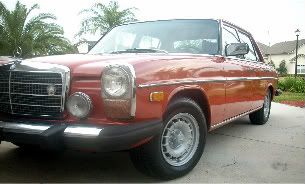 Currently Active Users Viewing This Thread: 1

(0 members and 1 guests)
Similar Threads
Topic
Author
Forum
Replies
Last Post
Shortage of fuel at injector lines out of fuel distributor

benzhead

W123 E,CE,D,CD,TD,TE Class

14

07-11-2009

01:19 PM

Injector Return Lines

BusDriver

W123 E,CE,D,CD,TD,TE Class

1

10-02-2007

07:27 PM

Injector return lines?

gottarollwithit

W123 E,CE,D,CD,TD,TE Class

15

05-29-2007

08:33 AM

injector return lines inner diameter?

quinny

W124 E,CE,D,TD Class

1

02-15-2007

10:37 AM

617 injector return lines

sack

W126 S,SE,SEC,SEL,SD,SDL Class

5

05-06-2006

08:41 AM