BenzWorld Elite
Date registered: Jun 2004
Location: Bucks County, PA
Posts: 2,069
Mentioned: 0 Post(s)
Quoted: 2 Post(s)
Probably best to use a wheel refnisher. There are ones in varios parts of the country, probably one not too far from CT, or you can UPS them. Or if you buy them from me, I can UPS them to the refinisher of your choice to save you freight costs.

Refinishing runs from about $70 to $200 per wheel. If I had to guess, I'd say $90 to dip, strip, and refinish in color of your choice for a wheel that does not have a bend, and maybe $125 for a wheel that does. But might be cheaper elsewhere, that's about what my guy charges.
BenzWorld Elite
Date registered: Jan 2007
Vehicle: EURO 280CE
Location: New Haven, CT
Posts: 1,689
Mentioned: 0 Post(s)
Quoted: 0 Post(s)
(Thread Starter)
yea thats way too much work for set of rims, ill keep looking
---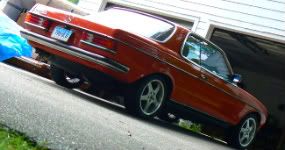 for sale: Car Domain 80 EURO 280CE M110.984 english red, white cloth interior 194k
daily driver: 93 toyota MR2, black 5spd non-turbo, may just have to remedy that
mopar: 62 chrysler newport 4DR white 361 V8, 36k miles

BenzWorld Junior Member
Date registered: Feb 2006
Vehicle: 2004 CL500, 2004 C230, 2002 C230 Coupe 2002 ML320
Location: Stuart Fl
Posts: 45
Mentioned: 0 Post(s)
Quoted: 0 Post(s)
I have a set of 5, 17"after market AMGs pm me if interested.
Currently Active Users Viewing This Thread: 1

(0 members and 1 guests)