BenzWorld Member
Date registered: Jan 2007
Vehicle: 2002 E55
Location: SoCali
Posts: 167
Mentioned: 0 Post(s)
Quoted: 0 Post(s)
First of all good luck selling this car.

Also, you might want to stop using the word PERFECT when there are so many exceptions to the perfection you are trying to sell.

Finally I doubt that this car would even "walk anywhere" in its condition much more an E55.

Bit
---
Bit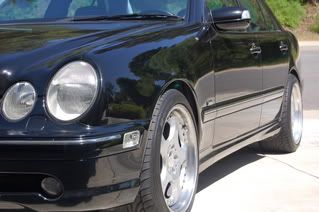 BenzWorld Junior Member
Date registered: Sep 2006
Vehicle: 202 C Klasse
Posts: 42
Mentioned: 0 Post(s)
Quoted: 0 Post(s)
wow i hope someone throws this pos off a cliff
BenzWorld Member
Date registered: Jan 2007
Posts: 110
Mentioned: 0 Post(s)
Quoted: 0 Post(s)
dammit,...

I need to go ahead and spit up some money for some badges! then I'll have a rare car like that guy!

but first, I have to remove everything back to stock "sleeper", and just leave the brabus reps on.

then I have to buy a renntech badge, and like a few 55 badges, and Im gonna have a...


C 555 555 555 RENNTECH AMG BRABUS LORINSER

Thats a "C- Five-Hundred-Fifty-Five Million, Five-Hundred-Fifty-Five Thousand, Five-Hundred-Fifty-Five RENNTECH A-M-G BRABUS LORINSER"
that's a hell of a rare car then!
BenzWorld Member
Date registered: Jun 2006
Location: FL, Bay Area
Posts: 62
Mentioned: 0 Post(s)
Quoted: 1 Post(s)
i saw that listing on ebay and i was skeptical with no proof of anything. i would consider it as a project car for $5,000
BenzWorld Junior Member
Date registered: Nov 2006
Posts: 7
Mentioned: 0 Post(s)
Quoted: 0 Post(s)
i have a brabus E class too.. and to be honest.. it way better looking than urs.. please dont take this personal, but ur car looks like crap...
BenzWorld Member
Date registered: Aug 2007
Vehicle: 2001 E55AMG
Posts: 105
Mentioned: 0 Post(s)
Quoted: 0 Post(s)
Quote:
Awsome thanks. I really appreciate the response you gave! This will help me out a lot. I just got pretty upset with the other guy because he started off with insults and insinuations. This is already pretty hard for me because I love the car, and don't want to get rid of it!
I don't know much about Mercedes, or Brabus, and I have sooo many records with this, that it is hard for me to find the right ones. No dyno. Also, I offered to send any pictures of anything, and have pics full screen. And until I find out exactly what has been done, I added "please bid on this as a stock e420". So it was hard for me to see how this was "shaddy".
Again I appreciate your mature rational response. Now I know I need to revise it. It's nice to know with so many other immature members on here, there are still some prestegious ones as well!
BTW: Sorry for all the "shows up e55" comments on the ebay page, but this car makes them look slow!
Sir,
No offense, but you are posting this on a Mercedes Enthusiasts group site, with a lot of members well seasoned in the Brabus, and other tuner conversions and upgrades. Yet, you admit that you dont know much about, Mercedes or Brabus, you have absolutely no proof or detail on ANY Tuner work or parts ( except the 20" Brabus? wheels ) ,the car has obviously been is an accident enough to deploy the air bag, you have a custom bumper with no closeup pictures or detail what so ever....with all due respect...what did expect? A Brabus conversion ? What conversion? A Brabus 6.0 L work will be more than what you are asking on Ebay as a buy now price....You want to sell the car, sell it for parts or part it out, or get REAL details and proof what you are claiming, otherwise, my 2c , omitt the Brabus, reference all together, no 6.0L, no E55, and certainly do not use RARE.
By not knowing about these modifications in details, and not having proof, you are inviting ( welcoming ) harsh comments. You have posted this car on Ebay before and I actually emailed you about it, and you couldnt provide me with a single detail about ANY modification...what do you expect?
A 6.0 L Brabus ? C'mon....
Best of luck with the sale, but you might want to consider some of the comments posted here by other members, not veryone is trying to attack you.
Ebay auction.
---
I am reporting this auction as a fraud on Ebay for everybody's protection.
BenzWorld Member
i'd like to add that above and beyong what's already been said about it being a fraud and a lie, this car is pretty much hideous.

this guy should look around on this forum a bit and get a feel for what people here actually consider to be an interesting, rare mercedes.
---
SC and ICd C43
BenzWorld Member
Date registered: Oct 2006
Vehicle: 1994 E320 Coupe
Location: Motown
Posts: 137
Mentioned: 0 Post(s)
Quoted: 0 Post(s)
This is a joke, right?

Everything is perfect except for the things that aren't. All electronics work except for the things that don't. The body is spotless except for the faded paint and damaged clear coat. No faults except for the ones that are recent. The interior is perfect except for the damaged dash, cracked windscreen, exploded airbags, broken rear view mirror and something with the back seat. And by the way, don't attempt to drive it.

Rare indeed.
---
Every mile a joy!
Currently Active Users Viewing This Thread: 1

(0 members and 1 guests)