BenzWorld Newbie
Date registered: Jul 2006
Posts: 1
Mentioned: 0 Post(s)
Quoted: 0 Post(s)
turbokit
---
Hi Dan!
I wonder if you still have the turbokit??
BenzWorld Junior Member
Date registered: Nov 2009
Posts: 5
Mentioned: 0 Post(s)
Quoted: 0 Post(s)
Dan
is the twin turbo kit still available? Pls email me at
Edgar_Uy_Lee@yahoo.com
if not, would u know anyone who has one for sale?
Many thanks
Edgar
BenzWorld Elite
Date registered: Jul 2006
Vehicle: 96 C36, 87 Turbo'd 190E 2.3-16, 86 SC'd 190E 2.3-16, Brabus'd C32
Location: MASS
Posts: 1,626
Mentioned: 0 Post(s)
Quoted: 0 Post(s)
4 year old thread.
---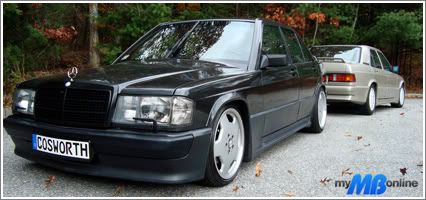 87 190E 2.3-16 Cosworth
- Track car-Getrag, short shift, delrin, 95a poly, Euro'd, 2 tone Recaros, custom suspension, EFI w/ Megasquirt, cast iron headers, Garrett turbo...
86 190E 2.3-16 Cossie
-Old beater Getrag, slammed on BBS' Mosselman ECU, Eaton M62 SC
03 C32 ///AMG
- Daily- designo edition, command, fulll Brabus CF interior, CF lips mirrors spoilers ect, and enough engine mods to destroy 911's
BenzWorld Member
Turbo kit
---
Quote:
Originally Posted by
300cePutterMcGavin
View Post
I'm interested can you give me some specs and pics of all the parts. Also how difficult would this be to fit. I'm plenty capable, but I just want to make sure I don't have to rent out a garage to do this! Also would you recommend rebuilding the engine of a 300ce with 129k miles? The thing runs increbily strong and has been well maintained, but I don't want to blow it out. Similarly would I need to rebuild it if I was just running low boost of around 7-9 psi? I'm very interested in this system! Let me know, Thanks, James
These kits are not that simple to install, theres lots of factors that you need to consider, i dont see how the exhaust and intake manifolds are fitting the same in both engines, you need to up-grade the head engine gasket, ARP bolts, fuel management and LOTS LOTS of time in setting, i understand that this is a kit but its not that simple, specially on mercedes that everything has to be custom made, i have an excellent book named Maximum Boost, i will e-mail it to you if your thinking in doing your engine turbocharged. The rule says that if you have a car that is 3 Lts when you boost 14,7 psi (1 bar) youre engine transforms into a (3000cc X 1,6) 4,8 lt, which means that you have to feed more and better youre car with gasoline, at this point your intake, exhaust, cooling systems, doesent match the need of the engine, thats is when the engines got broken, per bad or poor settings.
---
Adolfo Malavassi
W123 230e Turbo Gasoline
BenzWorld Member
Date registered: Jan 2010
Vehicle: 300E Turbo
Location: Australia
Posts: 91
Mentioned: 0 Post(s)
Quoted: 0 Post(s)
wow.....old thread alright lol.

You can run these kits on stock engines @ 5-7psi without a rebuild! Been done before. Tried & proven! That's only 250ish HP?

Head gaskets I believe (don't quote me) were better in later model M103's? The original M103's were terrible (gaskets)

There are members such as RYBCC that are running upwards to 400hp (don't quote me) on stock 2nd hand engines with 7psi for 10's of 1000's of miles with no hickups.

Absolutely correct though it's all about the AFM/engine management etc as with any turbocharged car. Especially due to stock CR.
---
Merc 300E - project
Currently Active Users Viewing This Thread: 1

(0 members and 1 guests)